Cleveland Guardians prospects: OF George Valera promoted to Triple-A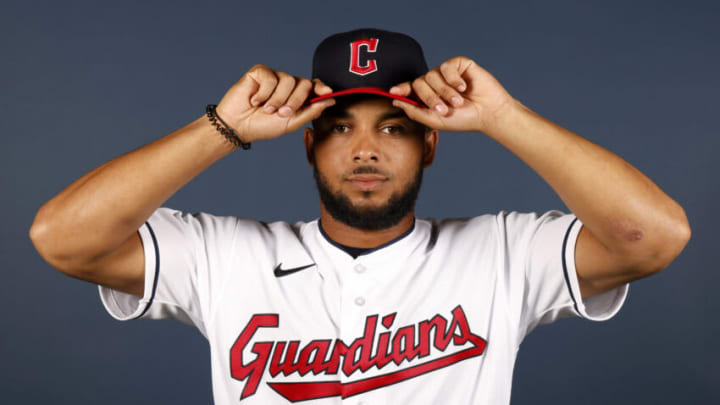 GOODYEAR, ARIZONA - MARCH 22: George Valera #7 of the Cleveland Guardians poses during Photo Day at Goodyear Ballpark on March 22, 2022 in Goodyear, Arizona. (Photo by Chris Coduto/Getty Images) /
With the departure of Franmil Reyes, and his own tremendous play in Double-A, it comes as no surprise that the Cleveland Guardians have promoted 21-year-old outfielder George Valera to Triple-A Columbus.
Valera, a member of MLB Pipeline's top 100 prospects, has been raking with the RubberDucks, posting a .264/.367/.470 line with 15 home runs, 17 doubles, three triples, 59 RBIs and 127 wRC+ in 330 at-bats. And now, like so many other Guardians prospects this season, Valera is now knocking on the door to the majors.
So When Will Guardians Fans See George Valera in Cleveland?
It just doesn't seem likely that Valera will make his major-league debut this season. Not only is he young, but the outfield is crowded enough as it is (a sentiment that seems insane given the status of the outfield the past few years) and he wouldn't get nearly enough playing time down the stretch for it to make sense, especially as the team remains in contention for a playoff spot.
And to be honest, Valera likely isn't breaking camp with the Guardians next season, either. Even though he's cut his strikeout rate down to just under 26% his season and he's upped his walk rate to over 13%, he still needs some seasoning; only time will tell how he initially adjusts to Triple-A pitching.
Still, though, Valera is a top prospect for a reason. Putting up a career OPS of .846 in the minors while consistently being one of the youngest players at every level at which you play will certainly get people excited. And Valera has all the makings of a potentially elite power bat at the major-league level, helping the Guardians as their contention window really opens up in the next few seasons.