Cleveland Guardians prospects: Whats's next for Double-A star George Valera?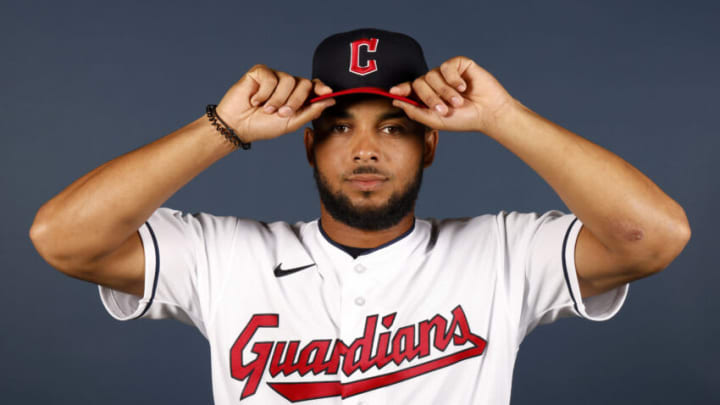 GOODYEAR, ARIZONA - MARCH 22: George Valera #7 of the Cleveland Guardians poses during Photo Day at Goodyear Ballpark on March 22, 2022 in Goodyear, Arizona. (Photo by Chris Coduto/Getty Images) /
George Valera has had nothing short of a dominant year for the Cleveland Guardians Double-A affiliate team, the Akron Rubber Ducks.
The left-handed batter also competed in the MLB All-Star Futures Game on July 16th, going hitless through two at-bats, grounding out and striking out.
Valera, who currently sits as the No. 2 prospect for the Guardians and the No. 6 outfield prospect in all of baseball according to the MLB Pipeline, has been a reliable heavy hitter in the 2022 campaign.
So far this season, he has recorded 76 hits, 52 RBIs, and 13 home runs while posting a .272 batting average.
The only concern for Valera's games comes in the form of his strikeouts, where he has 82 on the season through 75 games.
So what's next for the Cleveland Guardians' highly ranked prospect?
The majors are definitely out of the equation at the moment. With the recent addition of Triple-A studs Nolan Jones and Alex Call, the majors are full on prospect talent at the moment.
Starting in the outfield, the Guardians have Franmil Reyes, Myles Straw, and Steven Kwan, all solidified players who have showcased their proven roles in the depth chart.
Taking a look at the Triple-A scene in the form of the Columbus Clippers, they have an abundance of talented outfielders itching for a spot in the majors.
With Will Brennan being called up from the Rubber Ducks earlier in the season and Will Benson hitting the ball with ease, having recorded 16 home runs, those two are instantly out of the equation for being pushed out of playing time.
When looking at the other Triple-A outfielders, Trenton Brooks is batting .272 and Richie Palacios is batting .290. Aside from Oscar Mercado occupying a Triple-A roster spot, it seems the only opportunity for Valera to make a jump to Triple-A would be on the off chance that another one of the Clippers gets promoted to the majors.
Last season, Valera missed four weeks due to a strained oblique, so Cleveland is currently looking to see what a full season of action looks like for the young 21-year-old.
Conclusion: This season, George Valera seems stuck in Double-A unless trades, demotions, or promotions occur in the positions in front of him. With a Guardians roster loaded with outfield talent, he will need to continue his hot play in Akron, with the hopes of an opportunity to open up ahead of him.
Nonetheless, at the age of 21, he has a bright future ahead of him, and his talent will be showcased in the majors in due time.