Cleveland hasn't sent homegrown relief pitcher to All-Star Game since Jim Kern in 1978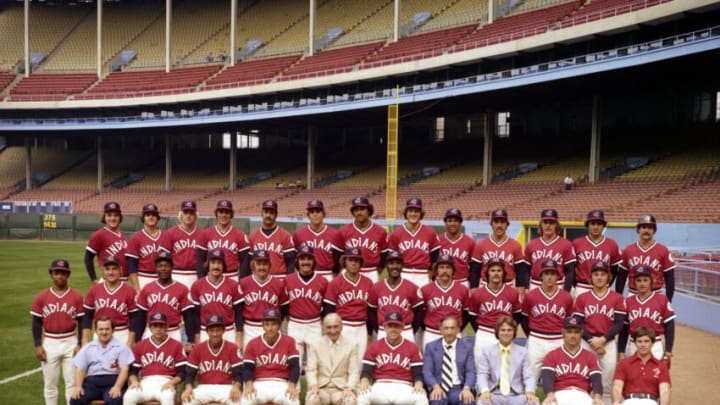 CLEVELAND - 1977: Members of the Cleveland Indians pose for a team portrait prior to a game in 1977 at Municipal Stadium in Cleveland, Ohio. Those pictured include (L to R) (first row) clubhouse manager Cy Buynak, Dave Oliver, coach Harvey Haddix, coach Joe Nosek, general manager Phil Seghi, manager Jeff Torborg, president Ted Bonda, traveling secretary Mike Seghi, coach Rocky Colavito, trainer Jimmy Warfield; (second row) Larvell Blanks, Jim Norris, Paul Dade, John Lowenstein, Rick Waits, Don Hood, Pat Dobson, Rico Carty, Wayne Garland, Dennis Eckersley, Frank Duffy, Ron Pruitt, Duane Kuiper; (third row) Rick Manning, Bill Melton, Buddy Bell, Johnny Grubb, Tom Buskey, Bruce Bochte, Jim Bibby, Jim Kern, Andre Thornton, Ray Fosse, Al Fitzmorris, Sid Monge, Fred Kendall. Cleveland Indians7701 (Photo by: Ron Kuntz Collection/Diamond Images/Getty Images) /
CLEVELAND – 1977: Members of the Cleveland Indians pose for a team portrait prior to a game in 1977 at Municipal Stadium in Cleveland, Ohio. Those pictured include (L to R) (first row) clubhouse manager Cy Buynak, Dave Oliver, coach Harvey Haddix, coach Joe Nosek, general manager Phil Seghi, manager Jeff Torborg, president Ted Bonda, traveling secretary Mike Seghi, coach Rocky Colavito, trainer Jimmy Warfield; (second row) Larvell Blanks, Jim Norris, Paul Dade, John Lowenstein, Rick Waits, Don Hood, Pat Dobson, Rico Carty, Wayne Garland, Dennis Eckersley, Frank Duffy, Ron Pruitt, Duane Kuiper; (third row) Rick Manning, Bill Melton, Buddy Bell, Johnny Grubb, Tom Buskey, Bruce Bochte, Jim Bibby, Jim Kern, Andre Thornton, Ray Fosse, Al Fitzmorris, Sid Monge, Fred Kendall. Cleveland Indians7701 (Photo by: Ron Kuntz Collection/Diamond Images/Getty Images) /
Grant Brisbee over at The Athletic recently profiled the organizational All-Star droughts for every major-league team, looking at each position and the last time a team developed a player who came up through the system and eventually became an All-Star with that same team.
It probably won't come as a surprise that the last homegrown outfielder Cleveland sent to the All-Star Game was Manny Ramirez back in 2000. Or even at first base, as Jim Thome was the last to do it in 2002. Guys like Michael Brantley and Carlos Santana obviously began their careers in other organizations before being traded to the then-Indians.
But what might come as a bit of a shock to you is that the last time Cleveland sent a homegrown relief pitcher to the All-Star Game was way back in 1978, when Jim Kern made it.
Now, you might not remember Kern from his playing days, but he had a heck of a start to his career. Originally signed by the Cleveland Indians right out of high school in 1967, Kern held a lot of promise due to his overpowering fastball, which could occasionally touch 100 mph.
Kern would struggle with his command in the minors, working his way up through Cleveland's farm system with a pit stop in the Marines, where he spent a year in active duty. Eventually, Kern would be called up to the majors and would ultimately find his magic in the bullpen.
From 1975 to 1979 (his first year with the Texas Rangers), Kern would have a 2.66 ERA in 523 2/3 innings, striking out 488 batters with a 2.89 FIP and 144 ERA+. He'd make two All-Star teams with the Indians and another with Texas in 1979, which was the best season of his career.
Kern was traded to the Rangers in 1978 for Bobby Bonds and Len Barker, who still just so happens to be the last Cleveland pitcher to throw a perfect game or no-hitter. It was with Texas in 1979 that Kern reached his full potential. He had a 1.57 ERA in 143 innings, with 136 strikeouts, a 2.63 FIP and 264 ERA+. He'd finish fourth in the Cy Young voting that year as well.
Kern never quite regained that form after 1979 due in large part to injuries. He'd be a journeyman pitcher the rest of his career, ending his time in professional baseball with Cleveland again in 1986. But there's no doubt he had incredible stuff, and there's no telling what might have been had he stayed healthy.
And now, current closer Emmanuel Clase holds the best chance for making an All-Star team, though the Rangers returned the favor, of course, by trading their own flamethrower to Cleveland in 2019. So if you were going to bet on the next Guardians reliever who could possibly become an All-Star, keep your eyes on Nick Sandlin, the former second-round pick who put up a 2.94 ERA in 34 games as a rookie last season.
The Rest of Cleveland's Organizational All-Star Droughts
Catcher: Victor Martinez (2009)
First base: Jim Thome (2002)
Second base: Jason Kipnis (2015)
Third base: Jose Ramirez (2021)
Shortstop: Francisco Lindor (2019)
Outfield: Manny Ramirez (2000)
Starting pitcher: Shane Bieber (2021)