Cleveland Indians: Filling Josh Naylor's role after his injury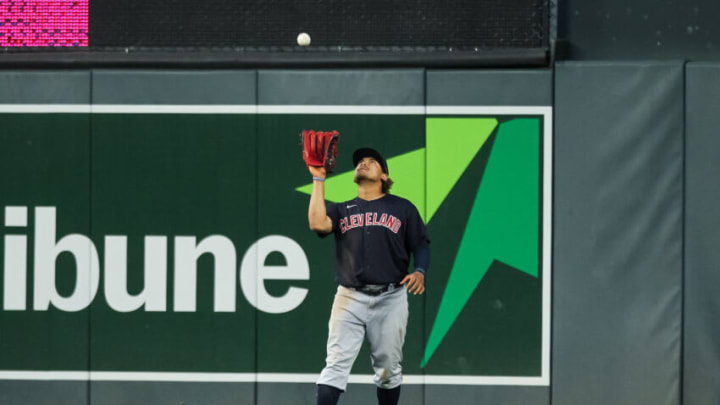 Josh Naylor #22 of the Cleveland Indians (Photo by David Berding/Getty Images) /
Josh Naylor #22 of the Cleveland Indians (Photo by David Berding/Getty Images) /
How will the Cleveland Indians fill Josh Naylor's role?
On Sunday the Cleveland Indians saw yet another player go down with an injury. This time, it was easily the most gruesome injury of the baseball season, seeing Josh Naylor rolling in pain after landing wrong on his ankle following a collision.
While Naylor might not have the impact of some of the other players who have gone down, he's still nearly an everyday starter and will leave a big role to replace in the Tribe's lineup. Luckily, outfielder depth is something Cleveland currently has in the system that is MLB-ready.
Naylor was in the midst of his best season to date at the time of the injury, slashing .255/.304/.403 with 13 doubles, seven home runs and 21 RBI on the year. He's also played a dual role, seeing 50 games in right field and 15 at first base.
He was only playing first about every three or four days, so that shouldn't be too difficult to replace. Bobby Bradley could see an expanded role and for depth the team can turn to Yu Chang. Bradley has played better against right-handed pitching, but that's where Chang's strength has been this year as well. The somewhat good news is that Naylor wasn't much better against left-handed hitting, so not much is lost at first other than depth for off days.
As for the outfield, the Cleveland Indians have a few different options they could explore. Eddie Rosario and Harold Ramirez have been solid in their roles and have solidified two spots in the outfield, leaving really just one to rotate. While Naylor was the more used player in the mix, there are still options to be had.
Bradley Zimmer has been steady enough to see more time since being called back up earlier this season. He's currently slashing .227/.346/.227 with five RBI and four stolen bases, despite not having an extra base hit through 66 at-bats. Zimmer is currently the only other healthy, true outfielder on the major league roster, but there's other options to explore.
Currently the Tribe have two outfielders on the 40-man roster in the minors, arguably three, that could take the major league spot. The team will have have injured players returning soon that could help. Worst case scenario, Naylor will most likely end up on the 60-day injured list which will open a spot on the 40-man for a player to be signed and brought on if all else fails.
Immediate help from the minors could come in the form of either Daniel Johnson or Oscar Mercado. Both are on the 40-man and have had previous major league experience. Johnson struggled in Cleveland, but Mercado had a strong 2019 campaign. There's also the option of Nolan Jones if they want to put him in the outfield.
For Columbus this year, Johnson is currently batting .223/.303/.458 on the year with 10 doubles, a triple and nine home runs while logging 21 RBI. As for Mercado, he's yet to be in Cleveland this season, but he's playing decently well in Columbus that could earn him a call-up. In total, he's slashing .220/.325/.399 with 13 doubles, a triple and five home runs topped off with 23 RBI.
With similar stats on the year, both Johnson and Mercado could be options to be called up to the Cleveland Indians. It could come down to either options or the fact that Johnson was given a shot already this year, albeit very short.
More from Away Back Gone
We also mentioned the possibility of someone returning from the injured list. While Franmil Reyes is closer to returning, his designated hitter status won't really change anything here. Jordan Luplow on the other hand might.
Luplow showed flashes early in the season, but his overall sample size was rather sub-par with .173/.331/.439 slash line. Now, he did knock seven home runs with 20 RBI in 98 at-bats but the average hurts. Luplow also went to Arizona on June 22 for treatment, so he might not be an option anytime soon.
While no injury brings good news, there might be a positive side to this one. The timing. With a month remaining before the trade deadline, the Cleveland Indians will have time to access their internal options and see if a move needs to be made. There's still enough time to explore a few different options before pulling the trigger on a trade.
If they want to stick with a first baseman, outfielder option they could look to make a deal for Trey Mancini. If only an outfielder is needed, then maybe Mitch Haniger or Joey Gallo would be in play. These names might be shooting for the stars, but they are just examples of what could be out there.
Either way, the Cleveland Indians will miss Josh Naylor. Any injury is hard to see, but that one in particular was brutal. He made an impact both at the plate and in the field all while being one of the more energetic players in the clubhouse. Hopefully, he makes a full recovery and can at least be with the team at times throughout the season.