Cleveland Indians: Should Lindor remain in leadoff role?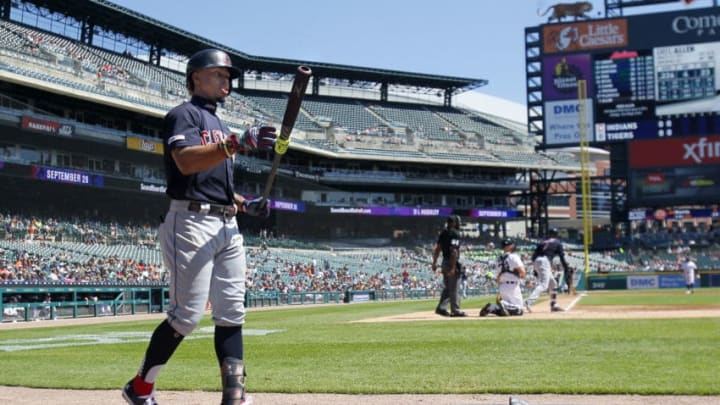 DETROIT, MI - AUGUST 29: Francisco Lindor #12 of the Cleveland Indians warms up to bat against the Detroit Tigers during the third inning at Comerica Park on August 29, 2019 in Detroit, Michigan. Lindor hit a solo home run during the third inning and the Indians defeated the Tigers 2-0. (Photo by Duane Burleson/Getty Images) /
Francisco Lindor has predominantly occupied the leadoff spot in the Cleveland Indians lineup for the last three years. Is it time for a change?
In Paul Hoynes' latest "Hey, Hoynsie!" segment for Cleveland.com, he fielded a question on whether the Cleveland Indians should move Francisco Lindor in their lineup in 2020.
The inquiry specifically focused on the potential for Oscar Mercado to take over as the Tribe's new leadoff hitter, in turn shifting Lindor to a more RBI-friendly position in the batting order. It's a fair question, and one that many have wondered about for the last several years.
Lindor has taken more than half of his career plate appearances as the leadoff hitter in Cleveland, as he's held down that spot in the lineup ever since the 2017 season. Of his 130 career home runs, 89 of them have come from the leadoff spot, and a staggering 97 of them have come with no one on base. That's almost exactly three quarters of his career home run total.
Hoynes offered this as part of his answer to the question:
"Mercado played 115 games this year and didn't bat leadoff once. He had a nice rookie year hitting between Lindor and Carlos Santana in the No. 2 spot. I'm not sure I'd want to take him out of that comfort zone, but what about switching Jose Ramirez and Lindor?That way manager Terry Francona would get his power-hitting switch hitter at the top of the lineup and put Lindor in a better position to drive in runs."
I was once on board with a Jose Ramirez leadoff experiment, but as the Indians are currently constructed, switching him out with Lindor in the lineup is essentially a wash. Both Lindor and Ramirez are switch-hitters with similar profiles at the plate. Neither strikes out often, and Ramirez is only slightly more inclined to draw walks.
In fact, since July 1 of the 2019 season, Ramirez actually walked in a lower percentage of his plate appearances than Lindor did. While this isn't historically the case, the difference in the career walk and strikeout rates of Lindor (8% BB, 14% K) and Ramirez (9.6% BB, 11.5% K) is not large enough in either case to suggest one or the other is significantly more suited for a leadoff role.
Moreover, they both bring similar power potential to the plate, suggesting neither one is more suited for a middle-of-the-order role than the other, either. Lindor has been more consistent, but Ramirez appeared to have figured things out at the plate in the second half of the 2019 season, and has a longer track record of success than struggle over the past three years.
More from Cleveland Guardians News
So what if both Ramirez and Lindor occupied the third and fourth spots in the order in 2020, and someone else entirely slotted into the leadoff spot?
Regarding Mercado, a year-two leap would certainly put him in the conversation to take over. His 2019 numbers don't reflect clear-cut leadoff ability, however, and he might well be better off sticking in the two-hole.
Mercado sported a respectable 17.4% strikeout rate in his rookie year, and it stands to reason that he can improve upon that going forward. Where he would most definitely need to improve in order to become a true leadoff hitter is in the walk department. Mercado drew walks at a 5.8% rate in 2019; only Tyler Naquin and Greg Allen owned lower percentages.
Why the heavy emphasis on walks in the leadoff spot? It's simple. A leadoff hitter's primary job is to get on base by any means possible. Home runs and doubles to begin a game are great, and Lindor has given the Indians plenty of those over the years. But he has fallen short of the "by any means possible" aspect of his foremost responsibility at the top of the lineup.
Luckily, the Indians have one of the premiere walk-rate hitters in baseball: Carlos Santana. Santana batted leadoff in 2016 when the Indians just so happened to go to the World Series. He also just happens to be the only player in the entire league with a walks-to-strikeouts ratio above 1.00 since 2016 (Joey Votto sits at an even 1.00 in the same span).
Santana's overall walk rate of 14.9% since 2016 ranks 13th in MLB, while his 16% mark in just the last two seasons ranks only behind Juan Soto, Bryce Harper and Mike Trout.
Is Santana a leadoff hitter by traditional standards? No. He's not a threat on the base paths, and his 25-to-30-homer power is the most obvious skill in his arsenal to the untrained eye. Moreover, his .281 batting average in 2019 is likely as close as he'll ever get to hitting .300 (a neighborhood historically associated with leadoff hitters). Naturally, he's viewed as more of a middle-of-the-order bat as a result.
But the on-base numbers tell us the whole truth. Santana has never posted a walk rate below double digits in nine full seasons. He hasn't struck out in more than 15.7% of his plate appearances since 2015, and has only posted a K-rate above 20% once (2011, almost a full decade ago).
With the pieces the Indians currently have in place, management must give serious thought this winter (and Spring Training) to slotting Santana back into the leadoff role while giving Lindor and Ramirez more opportunities for their plate approaches to produce runs.
As for the pieces they don't have in place yet (free agents, trade targets), stay tuned for a forthcoming exploration of which leadoff-caliber hitters the Tribe should be in the market for this offseason.