Cleveland Indians Draft Profile: Logan Gilbert, RHP, Stetson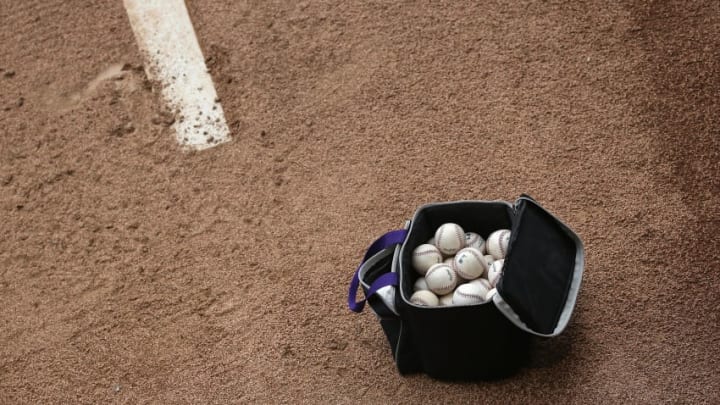 (Photo by Doug Pensinger/Getty Images) /
The MLB Draft begins tomorrow, June 4th, at 7 pm, Eastern time. The Cleveland Indians could select Stetson righty Logan Gilbert.
Logan Gilbert is one of the more polished college arms in this year's draft class. He has a big fastball and a complete four pitch arsenal with two plus breaking pitches.
As MLB Pipeline's 16th ranked prospect, there is a small possibility that Gilbert makes it all the way to the 29th pick in the draft and into the Indians organization. As an established college pitcher, getting him would be an absolute steal for the Tribe.
Also, Gilbert is at the alma mater of current Cleveland Indians ace Corey Kluber. Kluber came from this program in 2007. If this program can churn out pitchers like Kluber and Mets starter Jacob DeGrom, there's a pretty good chance that Gilbert can achieve a similar level of success in the big leagues.
It's also clear that Kluber still has a good relationship with his alma mater.
First of all, let's appreciate a rare Kluber smile.
Second of all, this connection between the Indians and Stetson could be fruitful as Kluber could still have a good relationship with the coaching staff at Stetson and they could talk to him about Gilbert and Kluber could talk to the front office.
More from Cleveland Guardians News
It's a stretch, I know, but a lot of this draft industry is all about knowing people and talking to people in different organizations.
What's Logan Gilbert's potential?
He could end up being a front line starter in the future. Gilbert has a four pitch mix with mid-90s heat and two plus offspeed pitches. He's a strike thrower, just like Kluber. He doesn't walk many hitters and is always around the zone. His delivery is polished and smooth, giving him a very high ceiling.
In 2018, Gilbert is 10-1, with a 2.52 ERA and 143 strikeouts over 100 innings for the Stetson Hatters.
Could he make it to the Indians?
Unfortunately, the chances are pretty small that Gilbert reaches the Indians at 29 overall. He's simply too good for 28 other teams to pass on him. But this is where that connection with Kluber may come in. If the two have talked at all, and I don't know if they have, but Kluber may be able to convince him that Cleveland is the place to go. If he does, Gilbert could simply tell other teams he isn't interested in signing with them or put up a ridiculous asking price on a signing bonus.
As a college junior, he has some leverage, but not as much as a high school player. As such, it's highly unlikely Gilbert will tell the 28 teams in front of the Indians to not select him, but stranger things have happened. After all, this is the MLB Draft, where the only certainty is that there isn't any certainty.
If the Cleveland Indians can snag Gilbert, that's for sure their 100% best case scenario. Unfortunately, unlike the NFL Draft, the Tribe can't trade up with another team to get the player they want. They just have to wait and see what the board is when they're on the clock.
Next: Who will be the fifth man in the rotation?
The Indians will have four picks on the first night of the MLB Draft, giving them plenty of opportunities to add big time talent to their organization.