Cleveland Indians: 3 LHPs to know for the 2018 MLB Draft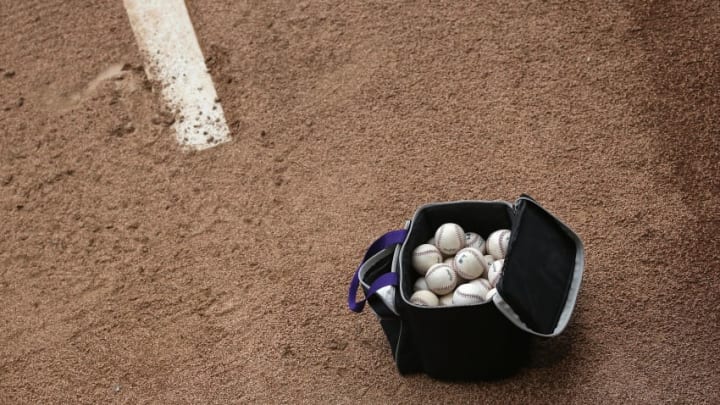 (Photo by Doug Pensinger/Getty Images) /
The Cleveland Indians are gearing up for the MLB Draft, just one week away. We wrap up our position preview series by looking at several left handed pitching prospects at the top of this year's class.
Left handed pitching is always in high demand because it's almost always in short supply. Every team can't get enough left handed pitchers. They provide great matchups against left handed hitters, and gives opposing teams something different to look at.
The Cleveland Indians currently don't have a left handed starter in their rotation, and while these draft prospects aren't going to change that any time soon, they could be a big part of future rotations.
The 2018 MLB Draft class is also a little short on left handed pitching talent at the top. There are a few early ones that without a doubt won't make it to the Indians at the 29th pick. But there are a couple that could be in range for the Tribe and make a lot of sense as a first round pick.
Ryan Rolison, LHP, Mississippi
Rolison has been rocketing up draft boards all spring and finds himself in first round consideration. He could've been an early pick coming out of high school, but was determined to go to college and has refined his skills even more.
Rolison, the 17th ranked prospect in the draft by MLB Pipeline, has one of the best curveballs in this class, which he pairs with a plus fastball. He completes his pitching arsenal with a decent slider and a pretty good changeup, giving him a solid four pitch mix with excellent command of the strike zone.
In 15 starts this year, Rolison has a 3.79 ERA with 107 strikeouts across 90.1 innings pitched. He hasn't been dominant, but those numbers are nothing horrible enough to worry about.
More from Cleveland Guardians News
He can remain a starting pitcher in the long term, which gives him a higher ceiling that helps his draft stock. If Rolison is there at 29, the Indians would be wise to pick him, but he might not make it there.
Kris Bubic, LHP, Stanford
A few mock drafts pegged Bubic's teammate Tristan Beck going to the Cleveland Indians in our most recent mock draft roundup. But Bubic is no slouch either, as MLB Pipeline ranks Bubic as the 50th best draft prospect this year.
While Rolison may have one of the best curveballs in the draft, Bubic has one of the best changeups in this class. He can throw it in any count and hitters can't touch it. Bubic sits in the low 90s with his fastball, so he doesn't overpower anyone but he gets by with his control and great stuff.
His curveball is still a work in progress but it's make a lot of strides this spring, giving him a true third pitch which will allow him to stay the course as a starting pitcher instead of going to the bullpen.
In Bubic's 14 starts this season, he's posted a 2.73 ERA and opponents are hitting just .204 against him. He's been a solid performer this year, and should see himself selected on the first day of the MLB Draft.
Konnor Pilkington, LHP, Mississippi State
Pilkington's draft stock has fallen a bit after a mediocre spring season. For Mississippi State, Pilkington has a 4.28 ERA over 14 starts in 2018. His freshman year, Pilkington had a 2.08 ERA, he posted a 3.08 ERA in his sophomore season, and he's now climbed above the 4.00 ERA mark in his junior year.
Nevertheless, he's got a lot of potential. MLB Pipeline slots him in as the 61st overall prospect in this draft class. He could be in consideration for the Cleveland Indians second round selection on Monday night.
Pilkington has three solid pitches in his arsenal. He has a low-90s fastball, which he pairs with an above average changeup, and mixes in a curveball. MLB Pipeline views Pilkington's future as a middle of the rotation starter who can eat innings.
Next: 3 RHPs to know for the MLB Draft
If team's reach for a player at any position, it's likely to be left handed pitching. You can never have enough southpaws on your roster and in your organization.