Cleveland Indians: 3 RHPs to know for the 2018 MLB Draft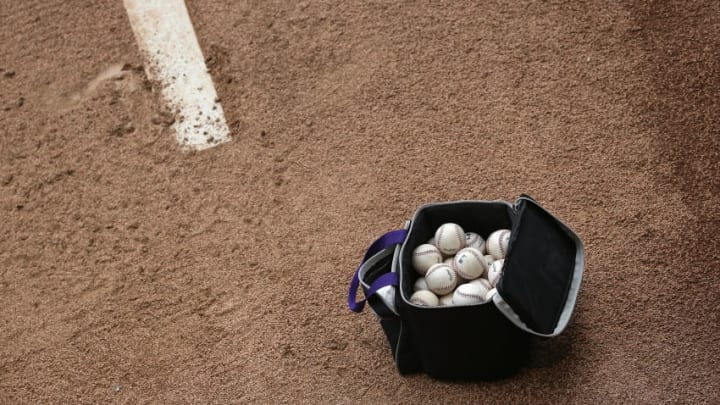 (Photo by Doug Pensinger/Getty Images) /
The 2018 MLB Draft is now just about a week away and the Cleveland Indians will have several early selections. Could they spend an early pick on a pitcher?
This year's draft class is seen as fairly pitching-heavy in the first couple rounds, which could allow the Cleveland Indians to snag one of the top pitchers in the class and stock up on arms in the minor league system.
According to the latest rumors, the Indians could be targeting a group of outfielders if one of the top high school arms doesn't fall to them at 29.
With a small chance of a top high school arm falling to 29 and the run on outfielders not beginning until late in the round, the Tribe could try to grab a pitcher at 29 and one of those outfielders at 35. There's a myriad of possibilities for the Indians to go with their two picks in the first round.
With that, here are some of top right handed pitchers that could be of interest to the Cleveland Indians in the first round.
Cole Wilcox, RHP, Heritage (GA) HS
Wilcox's name was brought up in our latest mock draft roundup, and for good reason. Wilcox is MLB Pipeline's 19th ranked prospect and he has three plus pitches in his arsenal. He sits in the mid-90s while occasionally pumping 98 MPH. His slider and his changeup are also effective and he mixes them well.
Wilcox has really good stuff. As a prep pitcher, he'll obviously have a lot of development time ahead of him, but all the tools are there. All he needs is a little polish and he'll be good to go.
He can either choose to get that polish in the minor leagues, or follow through on his commitment to the University of Georgia. But if he becomes a first round pick, he's likely going to choose the minor leagues.
More from Cleveland Guardians News
Mike Vasil, RHP, Boston College (MA) HS
Vasil can bring the heat. occasionally hitting 96-97 MPH, along with a really good curveball and a developing changeup. The teenage righty has a big frame and there's a lot of power potential for MLB teams to try to unlock. Vasil has been moving up draft boards for most of the spring, but hit a snag lately.
Back in April, MLB Pipeline's 25th ranked prospect left a game with an elbow injury. For any pitcher that's a major concern, but especially for a high school right hander that's in first round consideration. He returned in May, so there doesn't appear to be any immediate concern with his elbow injury, but this could still damage his draft stock.
The Cleveland Indians took a pitcher in the first round once before with elbow concerns in Brady Aiken back in 2015. That hasn't worked out that well as he did end up needing surgery. But there haven't been any reports that Vasil will need surgery. Nevertheless, injury concerns with high school pitchers are devastating to their draft stock.
J.T. Ginn, RHP, Brandon (MS) HS
Ginn has been clocked at 99 MPH on some radar guns and sits around 95-97 MPH on his fastball. Ginn's fastball has a lot of movement and he can command it extremely well. He also has a filthy slider that just embarrasses hitters and a changeup that gets mixed in well.
He's got first round stuff, but Ginn is a little undersized for some teams and that could push him down to maybe early second round. If the Cleveland Indians aren't bothered by his size, they could select him with one of their two picks near the end of the first round. Ginn isn't even that small. He's listed at 6'2″ and 199 lbs by MLB Pipeline and is their 34th ranked draft prospect.
Ginn is committed to Mississippi State, but he may not get there. If every team is turned off by his size and he falls a couple rounds, he'll likely end up going to college. But if he's a first round pick, a team feels confident they can sign him, he's going to be a difference maker for whoever drafts him.
The Cleveland Indians stand a good chance of seeing Ginn on the board when they make their first selection. If he's there, no one could fault the Indians for taking him based on his stuff.
Next: Andrew Miller's injury a devastating blow
The MLB Draft begins on Monday June 4th on MLB Network and the Tribe will have four picks on the first night of the draft.