Cleveland Guardians News
Swing and a Tribe: Examining the Cleveland Indians' offensive woes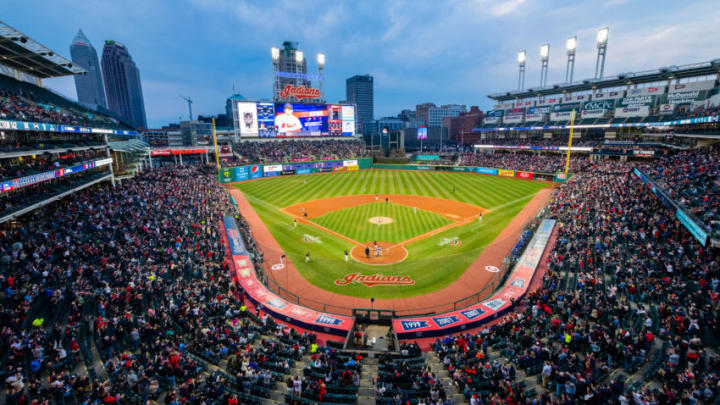 (Photo by Jason Miller/Getty Images) /
We thought we were done with winter and cold stove jokes, but the Cleveland Indians offense has been frigid to start 2018. The one burning question: Why?
If you were to try predicting the immediate future of the Cleveland Indians offense on a nightly basis, it might serve you just as well to speak like a weather reporter: mostly cloudy with a chance of solo shots.
Well-timed homers have largely defined the Tribe's offense as a whole early on in 2018. The Indians haven't strung together many rallies, but they've been able to launch just enough balls over the fence to stay above .500.
We've all been talking ourselves off the ledge for most of April as the Indians trudge through the month with the worst batting average in baseball.
"Better to get the slumps out of the way in April than in September!"
"This team won 102 games last year… they can't possibly have forgotten how to hit…"
"Why is there even a game today? It's 15 degrees out."
The good news is that the Tribe's pitching staff has been lights-out, boasting a 2.92 ERA bested only by the Diamondbacks, Red Sox and Astros. The bad news? You can't keep asking your starters to stonewall the opposition without adequate run support. Moreover, these close, low-scoring games require Terry Francona to tax the bullpen, and the Indians don't want their late-inning relievers coasting into October on fumes.
Like anyone else, I've been asking myself why the Tribe hasn't been able to get into the swing of things offensively as we near the end of the season's first full month. I thought I came up with an answer on my own.
I spent most of the winter believing unequivocally that Edwin Encarnacion's sprained ankle in Game 2 of the 2017 ALDS ultimately cost the Indians the series. I thought the Yankees attacked the Indians hitters (especially the top three) much differently once Encarnacion went down and a beleaguered Michael Brantley replaced him.
The Indians struck out a combined 40 times in the series' final three games after taking the lonely walk just 21 times in the first two (one of which went 13 innings). The Yankees took full advantage of Encarnacion's absence and provoked the Indians into chasing pitches, unafraid of the possible free passes they might issue if Cleveland didn't take the bait. By the time the vaunted cleanup hitter returned for Game 5, it was too late–the Yankees had figured out how to extinguish the inferno that was the Indians offense, and a hobbled Encarnacion didn't worry them.
With each passing week in April, I've found myself believing more and more that there must be a strong correlation between that series and the Indians' struggles to start this new season. Without having the ability to closely examine every single pitch thrown to an Indians hitter since March 29, I formulated a hypothesis: that opposing pitchers were largely attacking the Tribe with breaking balls and off-speed pitches in order to prey on their willingness to chase.
So I explored some in-depth numbers and found that the answer was even simpler: the Indians are seeing roughly the same percentage of fastballs in 2018 as they did last year, but they aren't doing any damage against them.
In order to examine this, we turn to a statistic known as Pitch Value, courtesy of FanGraphs. If you'd like to learn more about this stat, FanGraphs provides a helpful and detailed explanation, but to break it down simply, Pitch Value measures how many runs above average a team or player is worth against a certain pitch, and is denoted by "weighted runs." For example: weighted fastball runs is denoted as "wFB."
In 2017, the Indians were third in the league with 64.8 wFB. This indicates simply that Cleveland had a great deal of success creating runs against fastballs. On the somewhat terrifying flip side, they are 24th in 2018 with -9.4 wFB, enjoying the company of such hopeless teams as Miami, Kansas City and Cincinnati.
You don't need Brian Kenny to explain to you that an inability to produce runs against fastballs is problematic. But here's why it's problematic: if you're a young hitter who hasn't yet figured out how to catch up to high-90s heat, opposing pitchers are going to bombard you with fastballs until you do figure it out. Meanwhile, they're not wasting their time with sliders and curveballs in the dirt or hanging changeups in the middle of the zone. So you're not hitting well, but you're also not even forcing any mistakes or giving yourself a chance to work deep into counts and draw walks.
Now extrapolate that across an entire lineup. The Indians rank 21st in baseball with an 8.2 percent walk rate. Again, you don't want to find yourself being compared to the teams near them on that list very often. Like the imaginary young player above, they aren't hitting and they collectively aren't doing the other things necessary to create base runners and scoring opportunities.
More from Away Back Gone
A natural tendency of most sports fans is to search for someone to blame, but when an entire team struggles the way the Indians have there is no singular scapegoat. There is however, one player with more power than the rest of the lineup to fix it: the lead-off hitter.
For the time being, the Indians lead-off hitter is Francisco Lindor. Lindor is tied for second on the team in walks, but he's also dragging around a 21.8 percent strikeout rate that would be by far the worst of his career should it continue.
It's also likely the product of trying to do more than he needs to in his role. Thanks to Charlie Blackmon and George Springer, players now think they have to hit 35 home runs out of the lead-off spot.
When the Indians are firing on all cylinders offensively, that 30-homer power Lindor showed last season is a nice supplementary treat. When they're not, though, they don't need him to hit home runs–they just need him to get on base. He can change the dynamic of the rest of the batting order simply by consistently setting the table and making himself a tough out.
I believe the elixir to what ails the Tribe is very simply an adjustment in Lindor's plate approach; a willingness to sacrifice some home runs for singles and a focus on becoming more difficult to strikeout. Of course, a shuffling of the lineup may breathe some new life into the team as well, but Francona has demonstrated a commitment to his guys early on, so for now it is up to Lindor to take the lead.
The season is young, and the numbers discussed here admittedly come from a small sample size. They're not worth panicking over, but the Indians' struggles have dragged on long enough that we should at least monitor where they're coming from.
Next: Michael Brantley proving the haters wrong
Still, a positive regression to the mean is not only highly likely–it would be shocking not to see one in the near future. It won't be long before we all climb down from the ledge and laugh about that strange time when the Indians flirted with the Mendoza Line for 30 days. Until then, I suppose solo shots aren't the worst thing in the world.