Terry Francona wins AL Manager of the Year for third time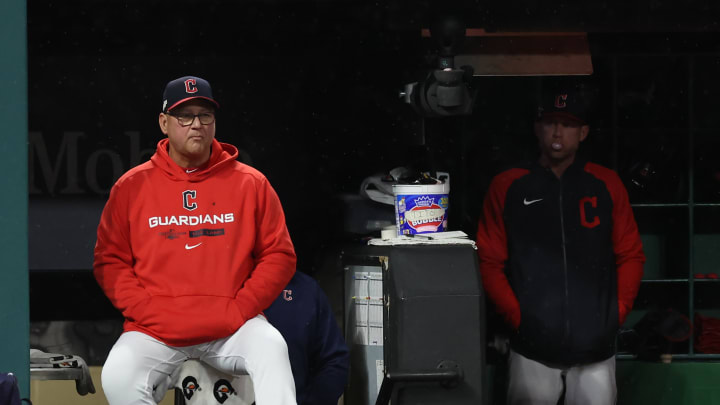 Division Series - New York Yankees v Cleveland Guardians - Game Four / Christian Petersen/GettyImages
Terry Francona has won the 2022 AL Manager of the Year award after leading the Cleveland Guardians to a surprising ­­­­92-70 record and running away with first place in the American League Central. The longest-tenured manager in MLB, Francona has won the AL Manager of the Year award twice previously with Cleveland - in 2013, and again in 2016 when he led them to Game 7 of the World Series. He has had a winning record 10 times in 11 seasons in Cleveland, the lone exception being an 80-82 record in 2021.
Francona was up against Brandon Hyde, who led the Orioles to an unexpected winning record at 83-79, and Scott Servais of the 90-win Seattle Mariners. Both the Orioles and Mariners, like the Guardians, overachieved in relation to preseason expectations. Neither Hyde nor Servais has previously won the award.
Perhaps the most impressive aspect of Francona's success this year was the youth and inexperience of the roster he led. Francona empowered and relied on a few veteran leaders, such as third baseman José Ramírez, to set the tone throughout the season. However, the Guardians had 17 different players make their major-league debut this season. While this was a franchise record, it is not unheard of throughout baseball; in fact, two other teams had 17 players make their debut this past season. Those teams – the Oakland Athletics and Chicago Cubs – put in context the importance of Francona's leadership and his success. The A's finished 60-102 in last place in the AL West, while the Cubs finished 74-88 in a distant third place in the NL Central.
That Francona could take baseball's youngest roster, develop young stars, and create a winning culture based on contact hitting, baserunning, and defense speaks volumes to how he commands respect throughout the clubhouse. The Guardians are extremely fortunate he wanted to come back to lead the team once again in 2023.