Guardians call up Brayan Rocchio from Triple-A Columbus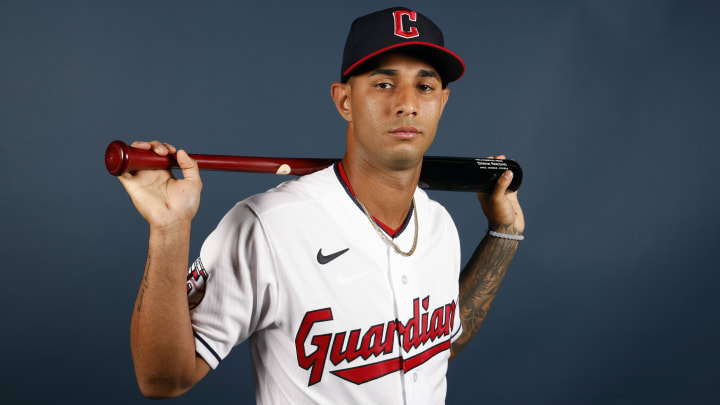 Cleveland Guardians Photo Day / Chris Coduto/GettyImages
The time has come for Brayan Rocchio to join the Cleveland Guardians. The team has called up the 22-year old middle infielder while sending down pitcher Hunter Gaddis prior to Wednesday's game in Detroit.
While Rocchio is not in the lineup Wednesday, it appears there is some concern about the health of both Amed Rosario and Tyler Freeman. Gabriel Arias is in the lineup while Rosario has been absent the past few games and Freeman dealing with an injury of his own. An injury which came during the first of two games against Detroit Tuesday. Rocchio making an appearance of some sort Wednesday would not be entirely surprising considering that they went out of their way to add another middle infielder to their roster.
Rocchio is the latest of young Guardians to join the team over the last two seasons, many of which have already made an impact. MLB.com had Rocchio listed as Cleveland's sixth-best prospect coming into this season, only behind some of the more popular names who could debut soon such as Bo Naylor and Tanner Bibee.
The Guardians call up of Brayan Rocchio appears to be a mix of improved performance combined with positional need.
Even though this appears to be a call-up based on positional need, Rocchio clearly has shown enough at the Triple-A level. Through 15 games Rocchio has 21 hits in 61 at-bats which includes seven doubles, and a slash line of .344/.414/.459. This is an improvement over his 33 game stint in 2022 which saw Rocchio finish with 32 hits in 33 games, six of those hits were doubles while five were home runs. Rocchio's slash line was not quite there as the .234/.298/.387 was not that encouraging. Apparently the improvement seen early on in Columbus mixed with the need at the position has resulted in Cleveland feeling more than comfortable than bringing Rocchio to the major league level.
Rocchio's time in Cleveland may brief as long as both Rosario and Freeman can avoid a stint on the injured list. There are also some other positions currently that have some moving parts with them which could result in Rocchio being the odd man out. If either Rosario or Freeman spends some time on the IL Rocchio could have an extended stay. If not, it appears to be a brief pit stop for before finally getting an extended look which should come at some point this season.