Cleveland Guardians feature five Gold Glove finalists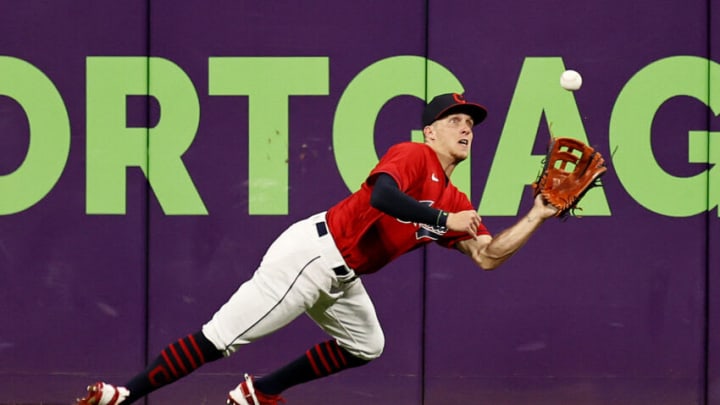 Myles Straw #7 of the Cleveland Indians (Photo by Ron Schwane/Getty Images) /
The Cleveland Guardians were a team built on great defense this season, so it's no surprise to see them littered among this year's Gold Glove finalists.
The Guardians sport five finalists: second baseman Andrés Giménez, center fielder Myles Straw, left fielder Steven Kwan, third baseman José Ramírez, and pitcher Shane Bieber.
These five were among the league leaders in important defensive metrics such as Outs Above Average (OAA) and Defensive Runs Saved (DRS). Both Straw and Kwan were in the top ten among all major-league outfielders in terms of OAA (Straw with 13 and Kwan with 9); Kwan actually led all left fielders in this category. Giménez (12) was second in OAA among major-league second basemen, trailing Detroit's Jonathan Schoop and his ridiculous OAA of 27.
If we're talking DRS, it's more good news for the Guardians, especially in the outfield. Straw and Kwan are both in the top ten among all major-league outfielders as well, ranking fourth and sixth, respectively. Giménez, who enjoyed a breakout campaign like so many of his teammates, fares even better in DRS among second basemen, as he is the top-ranked second basemen in the AL in this department with a DRS of 16 (Schoop has a DRS of 8 if you're keeping score).
And just for good measure, Straw also just so happens to be second among all outfielders in terms of Ultimate Zone Rating with a 13.2. Ramírez is second in UZR as well with 10 and Giménez is second with a 6.5. If your head isn't already spinning from all these numbers, just know that Cleveland has people all over the top of these different leaderboards.
Of course, these aren't the only stats that voters will be considering – there's always the dreaded "eye test" – but there's a good chance the Guardians could be walking away with multiple Gold Glove winners this offseason. And there's a really good chance the outfield could be shining with plenty of gold at the start of next season.