3 concerns for the Cleveland Guardians heading into the ALDS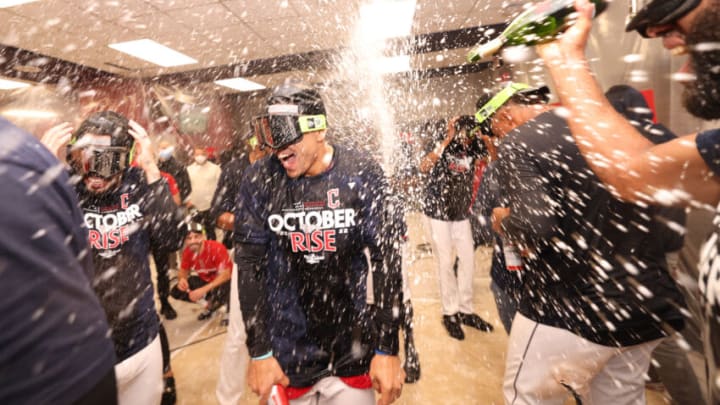 CLEVELAND, OHIO - OCTOBER 08: Members of the Cleveland Guardians celebrate in the clubhouse following their victory against the Tampa Bay Rays in game two of the Wild Card Series at Progressive Field on October 08, 2022 in Cleveland, Ohio. (Photo by Patrick Smith/Getty Images) /
The Guardians received bad news on reliever Nick Sandlin on Monday, announcing that an MRI revealed a strain of his teres major muscle. Long-term, the prognosis for this injury is relatively good; however, in the short-term it means that Cleveland will be without one of their top setup men.
While Cleveland's bullpen has been dominant and looked to be a significant strength and potential advantage heading into the playoffs, there has to be some level of concern. Losing Sandlin could affect the team's ability to shorten games and bridge the gap to closer Emmanuel Clase. This concern becomes magnified with the change in rules in the postseason, which eliminates the "ghost runner" at second base in extra innings. In longer games, the more dominant relievers you can throw out there the better, and Cleveland just lost a good one.
Beyond Sandlin, there has to be at least some question surrounding potential Game 4 starter Aaron Civale. Civale worked his way back from multiple injuries this season, going 5-6 with a 4.92 ERA and 1.19 WHIP in 98 IP. The Guardians won seven of his past eight starts, including the game that clinched the American League Central and the final game of the regular season. However, Civale was left off the wild-card roster to save him for a start in the ALDS. This will lead to an 11-day layoff between his last regular-season start and his projected Game 4 start against the Yankees. How he adjusts to the disruption in his routine, his sharpness, and stamina all will be closely watched following the layoff.
The Guardians have the youngest roster in the major leagues. The deeper they go into the playoffs, the more attention this will garner. While veteran leadership and a great coaching staff and manager can offset the differences in experience, many of the Guardians players have already played more games than they have in any previous season. Many of the Guardians' young players also lost important development time during the cancelled 2020 minor-league season. How they adjust to the extended schedule and potentially playing into November could factor heavily in the Guardians' success moving forward.