3 concerns for the Cleveland Guardians heading into the ALDS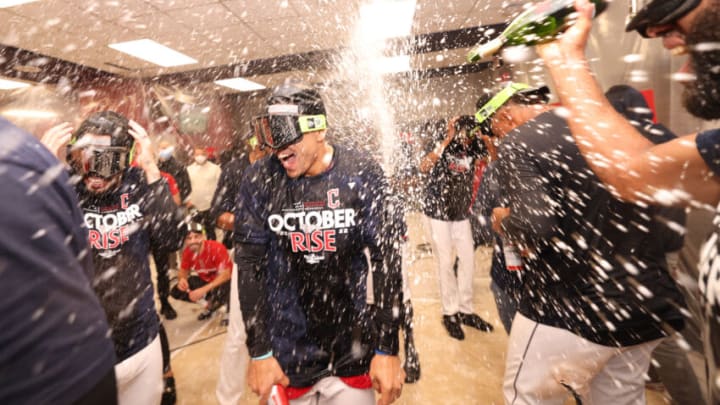 CLEVELAND, OHIO - OCTOBER 08: Members of the Cleveland Guardians celebrate in the clubhouse following their victory against the Tampa Bay Rays in game two of the Wild Card Series at Progressive Field on October 08, 2022 in Cleveland, Ohio. (Photo by Patrick Smith/Getty Images) /
Earl Weaver once said, "Momentum? Momentum is the next day's starting pitcher."
Well, Cleveland's starting pitching has been very good this year, even dominant at times. And so has their track record lately. The Guardians finished the regular season on a tear, going 24-6 (.800) over their past 30 games before sweeping the Rays in the AL wild-card round. The last time they lost back-to-back games was over a month ago – September 3 and 4 vs. Seattle.
The Guardians were able to rest some guys and get others healthy because they wrapped up the AL Central during that dominant stretch in September. And they were able to set their pitching rotation how they wanted it for the wild-card round and moving forward throughout the playoffs. With a magical finish to a marathon clincher, everything seems to be going Cleveland's way.
However, here are a few concerns heading into their ALDS matchup with the New York Yankees.