Cleveland Guardians sign José Ramírez to five-year, $124 million extension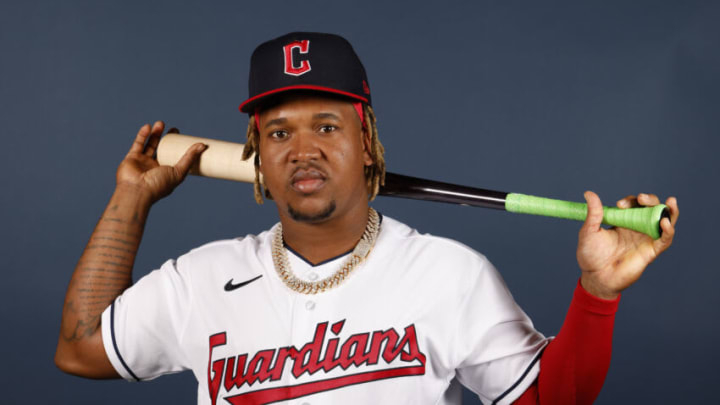 GOODYEAR, ARIZONA - MARCH 22: Jose Ramirez #11 of the Cleveland Guardians poses during Photo Day at Goodyear Ballpark on March 22, 2022 in Goodyear, Arizona. (Photo by Chris Coduto/Getty Images) /
GOODYEAR, ARIZONA – MARCH 22: Jose Ramirez #11 of the Cleveland Guardians poses during Photo Day at Goodyear Ballpark on March 22, 2022 in Goodyear, Arizona. (Photo by Chris Coduto/Getty Images) /
The Cleveland Guardians have done the previously unthinkable and inked third baseman José Ramírez to a five-year contract extension.
It happened. It actually happened.
Though plenty of social media rumors had been swirling around over the past couple of weeks, the fact now is that the Cleveland Guardians have officially signed star third baseman José Ramírez to a five-year, $124 million contract extension, which more than doubles the biggest deal ever doled out by the team. And with two years left on his existing deal, Ramirez is guaranteed $150 million (along with a full no-trade clause) to potentially his entire career in Cleveland.
Though it was a no-brainer move for the organization to make, especially at the discount the Guardians received from a player desperate to stay with them, dedicating that much money to one player is a huge departure from the status quo. If it wasn't for Ramirez being so dedicated to the franchise, there is simply no way a deal would have been done, but that's neither here nor there at this point. The fact is, Ramírez will be in Cleveland for the long haul.
Talks with the three-time All-Star and perennial MVP candidate appeared to hit a snag earlier in the week, and, according to Jeff Passan, the Guardians began exploring the possibility of a trade if they couldn't lock him up before Opening Day. Again, though, Ramirez made sure that wasn't going to happen.
As the dust settles and the team likely enjoys a nice boost in ticket and merch sales stemming from the news, the Guardians, with one of the youngest rosters in all of baseball, can begin to focus on developing their crop of upcoming prospects or parlaying them into deals that help the team build around its centerpiece.
In an otherwise baffling offseason where the team was rightly lambasted for doing practically nothing, this extension does a lot to build back the faith among an apathetic fan base, starting the new era of the Guardians off on the right foot.