USA TODAY pegs Cleveland Guardians for putrid 74 wins in 2022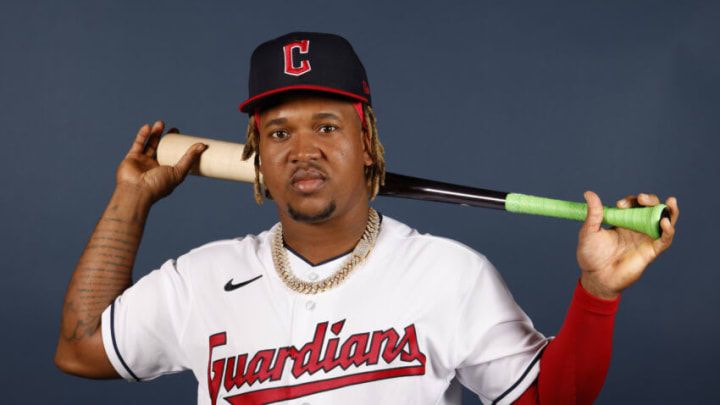 GOODYEAR, ARIZONA - MARCH 22: Jose Ramirez #11 of the Cleveland Guardians poses during Photo Day at Goodyear Ballpark on March 22, 2022 in Goodyear, Arizona. (Photo by Chris Coduto/Getty Images) /
GOODYEAR, ARIZONA – MARCH 22: Jose Ramirez #11 of the Cleveland Guardians poses during Photo Day at Goodyear Ballpark on March 22, 2022 in Goodyear, Arizona. (Photo by Chris Coduto/Getty Images) /
Predictions for the 2022 season are starting to come in, and USA TODAY has the Guardians winning a measly 74 games (can you blame them?).
The Cleveland Guardians couldn't even spend a million dollars in free agency (up until that major Bryan Shaw signing, of course), so a projection like this doesn't come as a huge surprise, but USA TODAY has predicted the team will win a paltry 74 games this season.
Woof.
The Guardians are expected to finish last in the division according to the publication's six-person panel, with the third-worst record in the American League as a result.
That being said, the preview article itself does give the Guardians the slightest bit of credit, despite doing essentially nothing this offseason:
"The Guardians did virtually nothing this winter, yet it wouldn't be shocking to see them finish second or third."
These types of 2022 predictions for the Guardians are fair, despite the fantastic starting pitching and a young lineup that has some intriguing upside (hello, Steven Kwan). This is the price the organization is going to pay right now for standing pat in an offseason where the team signaled it was willing to spend money and then did absolutely nothing.
The Guardians want you to believe in their youth movement, and it might pay off, but it also might fail spectacularly with no real backup plan whatsoever. A veteran signing or two would have likely helped alleviate the struggles of a young roster, but the team is instead throwing everyone into the deep end of the pool this season.
That's either going to result in a shock-the-world season where the Guardians finish way above expectations thanks to a healthy pitching staff and some developmental gems in the lineup, or there are going to be some serious growing pains and Cleveland is going to waste yet another season from third baseman José Ramírez and ace Shane Bieber.
There's nothing left to do now but see how it goes. Not exactly the type of marketing slogan the team wants in its inaugural run as the Guardians, but here we are.