Cleveland Indians Fantasy GM: Reconstructing the possible 2021 roster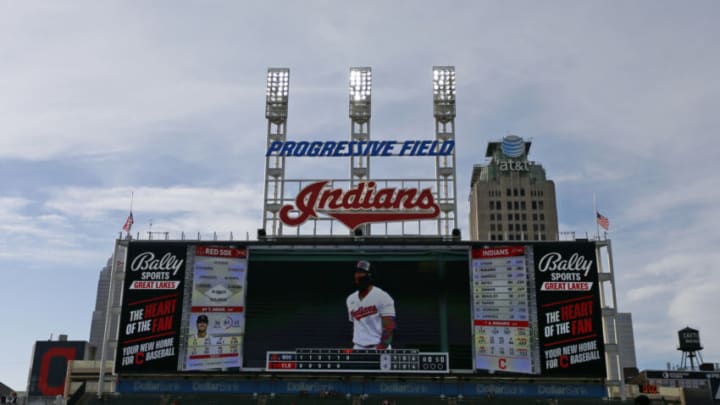 The Cleveland Indians scoreboard (Photo by Justin K. Aller/Getty Images) /
Myles Straw #7 of the Cleveland Indians (Photo by Emilee Chinn/Getty Images) /
Outfield and Total Payroll
We have long belabored the lack of impact from Cleveland's outfield, even during the 2016 World Series run with Michael Brantley sidelined that year due to injury. In recent years it felt there would be budding stars roaming the warning track in Cleveland with Oscar Mercado, Tyler Naquin and Bradley Zimmer climbing the ranks during this window, but ultimately with six roster spots and not a lot to choose from, I valued average and defense, not always in the same package.
Bringing back Michael Brantley, despite his age and contract, was a no-brainer. His first contact with the Astros was immensely affordable for Cleveland at the time, and among other puzzling moves and success stories elsewhere was letting Tyler Naquin go entering 2021.
Naquin went on to hit .270 with 19 home runs and 70 RBIs for the Reds in 2021, something almost every fan in Cleveland knew he was capable of between the injuries and his elevated strikeout rate, but for just $1.5M he is worth every penny.
Myles Straw is the difficult player here, coming to the Indians at the actual 2021 trade deadline, but I would argue that if Houston gave up a 30 double/30 steal candidate at the deadline for Phil Maton and a Low-A catching prospect then this trade could have been made at the winter meetings before spring training.
So, there we have it, a 26-man roster with the farm system (namely the top 30) untouched. We set out to build a roster with sustainability, youth and more importantly a payroll under $86,456,700 with a $4M buffer up to $90M to account for the extra player.
It may not be perfect, and certainly has questions at the corner infield spots, but when it's all said and done true to the Indians roster building of recent seasons only nine players on the roster exceed $1M in salary, and only two contracts are expiring after the season, but both have club options for 2022 (Jose Ramirez and Roberto Perez). We find ourselves with a 2021 opening day payroll of $79,782,800, beating the number we set by $6,673,900, and possibly by as much as $10M if the buffer was needed.
Given 2021 didn't play out perfectly in reality, but in a world where we assume this roster stays mostly healthy, I'd expect this offense to be greatly improved and to make a push for 95 or so wins, which would have won the AL Central this year. The benefit of hindsight is incredible for an exercise like this, but it's purely for fun following a disappointing season. Feel free to come to my Twitter and stake your cases, I'm ready to be roasted.