Cleveland Indians Fantasy GM: Reconstructing the possible 2021 roster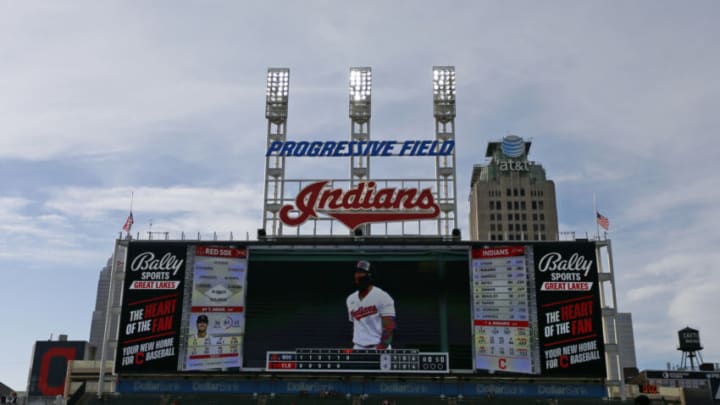 The Cleveland Indians scoreboard (Photo by Justin K. Aller/Getty Images) /
Jose Ramirez #11 of the Cleveland Indians (Photo by Tim Warner/Getty Images) /
Infield and Catchers
Now comes the real meat of the roster, but probably among the easiest to choose given the budget constraints. A player like Francisco Lindor is immediately ruled out due to his exorbitant contract with the Mets, and even Yan Gomes is a tough situation with multiple Indians catchers potentially earning over $1M in 2021.
That being said, it doesn't mean that money wasn't spent when constructing the infield. It's a blend of young talent and aging veterans who still provide value while waiting for the crop of infield talent in the high minors to make their debuts.
Josh Donaldson played 16 games for the Cleveland Indians in 2018, coming over from Toronto late in the season and coming back from an injury. In 2019 he received MVP votes for the Braves. Both Donaldson and Carlos Santana are the most difficult decisions for this selection, especially Santana who would be due $10.5M in 2022, but for now I value his ability to draw walks, get on base and to play defense more than Bobby Bradley. Francisco Mejia has also developed nicely between his time with Tampa Bay and San Diego, and much like his counterpart Gio Urshela on this roster, it seems that all he needed was some more consistent playing time.
As for Jose Ramirez, two things would happen here; 1) I'd move him to second base to accommodate Donaldson in the lineup, and 2) I'd pay him whatever he wants after his club option for 2022. And that may be possible with total payroll at the end of this exercise. Amed Rosario, Ernie Clement, Josh Naylor and Andres Gimenez make up an excellent crop of young bench and utility players, covering the entirety of the infield as well as Naylor capable of playing right field. There's still the good problem to have of too much talent stacking up in the minors, so the roster is insulated from injuries with Gabriel Arias, Nolan Jones and Brayan Rocchio still in waiting.