Cleveland Indians Fantasy GM: Reconstructing the possible 2021 roster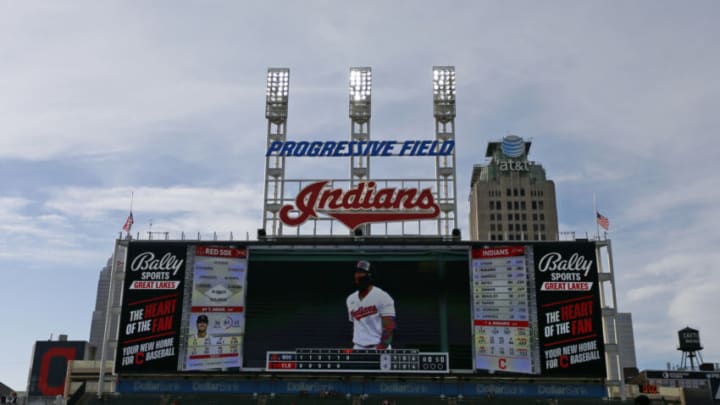 The Cleveland Indians scoreboard (Photo by Justin K. Aller/Getty Images) /
A Cleveland Indians jersey (Photo by Ron Schwane/Getty Images) /
Rebuilding the Cleveland Indians 2021 roster and playing GM
The 2021 season is in the books for the Cleveland Indians, and the team will be watching October baseball from their couches with the rest of us. Despite a bottom-three payroll and young players all over the roster, the team overperformed in the first half, and arguably could have made a push for a Wild Card with healthier starting pitching. With a record of 80-82, and a second place finish in the American League Central, let's have some fun and play "beat Mike Chernoff".
Something we do as fans, especially fans of a small-market team like Cleveland, is complain about ownership's lack of spending to field a competitor. In Cleveland's first season without Francisco Lindor, who signed a gaudy 10-year $341M extension with the New York Mets, the team significantly cut back on payroll, opening 2021 with roughly $46.8M total on opening day, good for 28th in baseball. It wasn't necessarily a rebuild as the Indians had promising pitching across the board (including a 24-year-old Cy Young winner) and Jose Ramirez, who feels like he's been around forever, but just turned 29 this season.
So why not, if just for fun, attempt to construct a potential roster that may have existed for the 2021 Cleveland Indians somewhere in the multiverse? For the sake of ease, and not making this 10,000 words, we're going to set some basic criteria, ignore a couple of complex specifics (arbitration namely) and try to reason one trade deadline move as a possibility of entering 2021. So, here in no particular order, are the criteria for this exercise:
For a player to be eligible for this exercise, they must have logged at least one game for the Cleveland Indians from 2016 until the end of 2021.
Prospects and players who have yet to debut are excluded, but it is assumed the majority of the farm system is in-tact to have made this roster possible.
The average opening day salary for Cleveland in this date range is roughly $86,456,700 with the expansion of the roster to 26 players in 2021. In the unlikely event we exceed that average we will apply a +$4M cushion (half the value of Eddie Rosario's one year $8M contract entering 2021) to account for the extra player.
We will assume that free agents who signed deals with other teams during this window (Michael Brantley for example) would have signed the same contract with Cleveland.
We are to assume this roster would not have experienced the same injury luck the actual 2021 Indians experienced. We will use 2021 stats as a reference point, but imagination will be required (i.e. what if Shane Bieber made 32 starts instead of just 16?).
With those rules in place, let's get into it, and delve into each position group, what each player's stats were in 2021, age and eventual free agent status.