Cleveland Indians: 3 prospects that should have fans excited for the future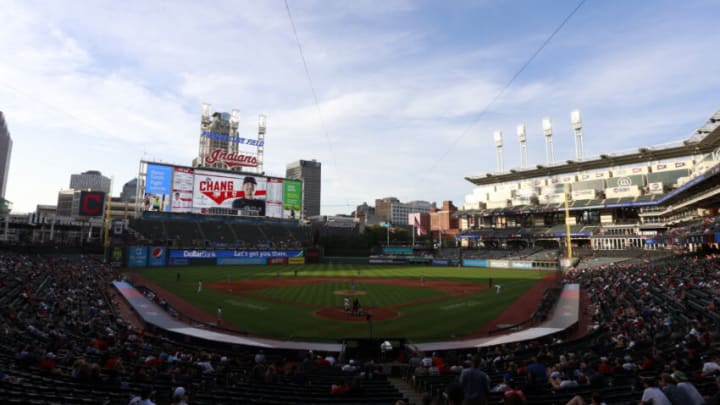 A general view of Progressive Field home of the Cleveland Indians (Photo by Justin K. Aller/Getty Images) /
Progressive Field home of the Cleveland Indians (Photo by Justin K. Aller/Getty Images) /
3 Cleveland Indians prospects that should have fans excited for the future
At 64-64, the Cleveland Indians are sitting at exactly .500, placing them 10 games back in the American League Central and 8.5 back in the Wild Card race. With time slowly running out for a last minute run, fans of the club are starting to shift their attention to the future. Luckily, there's some exciting players on the horizon.
Cleveland has already been given a slight taste of upcoming players who could soon have an impact. The injuries to the starting rotation have allowed a handful of pitching prospects to try their hand in the majors while deadline moves opened doors for others to get their shot.
The outfield is starting to come together and the rotation is starting to click, giving hope for the 2022 campaign. In addition to what we're seeing on the field already in Cleveland, there's prospects that are knocking on the door, or at least showcasing their potential for what could be.
Not all of these players will be ready to contribute in 2022, but they will be in the relatively near future and are already turning heads at the minor league levels. If they can sustain their production, they should be consistent contributors in Cleveland sooner rather than later.
Oscar Gonzalez, OF, Cleveland Indians
We've talked about Oscar Gonzalez before, but he just continues to impress in Triple-A Columbus and it's becoming increasingly more difficult to overlook him as an option for Cleveland's outfield. Turning 24-years old in January, he's exhibiting skills that might be MLB-ready by Opening Day of next year.
Gonzalez is coming off a 14-game hitting streak with Columbus and that's just a sample of the success he's had. Being called up from Double-A earlier this season, Gonzalez now has 46 games under his belt with the Clippers, slashing an impressive .310/.345/.533 with the club.
In addition to the strong slash line, Gonzalez has also tallied nine doubles, a triple and 10 home runs while accumulating 23 RBI. As for in the field, he's been perfect at both corner outfield spots.
It was a similar slash line that was enough for Gonzalez to make the move from Double-A Akron up to Triple-A Columbus. If he can continue to showcase these skills through Spring Training, it will be hard to not give him a roster spot to start the season.