The Cleveland Guardians outfield of the future is finally coming together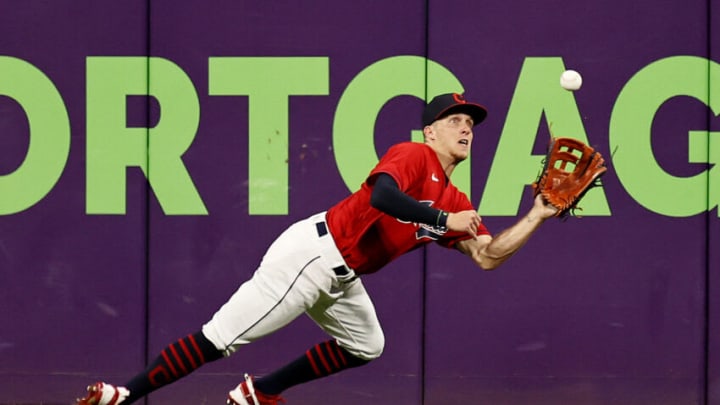 Myles Straw #7 of the Cleveland Indians (Photo by Ron Schwane/Getty Images) /
Myles Straw #7 of the Cleveland Indians (Photo by Ron Schwane/Getty Images) /
Myles Straw, OF, Cleveland Indians / Cleveland Guardians
Acquired at the trade deadline, Myles Straw could quietly become one of the better deadline acquisitions of the 2021 season. Turning 27 in October, he's already proving to be a cornerstone of Cleveland's outfield, and batting order, and has multiple seasons of team control left on his contract.
In Houston, Straw was a similar hitter to Ramirez. He had a near identical slash line, but with fewer home runs and more stolen bases. However, since he's arrived in Cleveland Straw has found his stride at the plate and is locking himself into the leadoff spot for the club.
Over 25 games with Cleveland, Straw is slashing .291/.354/.437 with nine doubles, two home runs and four stolen bases. His batting average has jumped nearly 30 points since the trade and he has the same amount of home runs and only four fewer doubles in 73 fewer games compared to what he did in Houston.
Maybe it's something about Progressive Field or perhaps he just needed a change of scenery, but Straw is making it look like Cleveland got a steal. This isn't the first time this has happened either.
Back in 1992 the Tribe acquired a centerfielder from Houston who decided to wear #7 and turned his career around immediately. He saw his batting average jump over 80 points and became a speed-demon atop Cleveland's batting order. That was Kenny Lofton.
Now, Straw has a decent way to go before he can live up to lofty comparisons, but he's well on his way to being in that conversation.