Cleveland Indians: 3 trade deadline deals when the Tribe sold but later won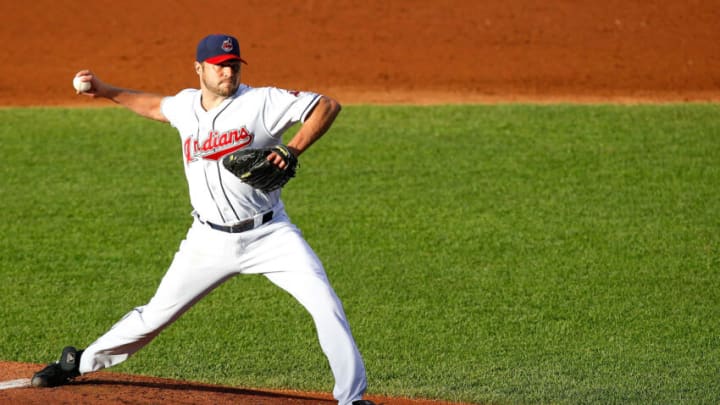 Jake Westbrook #37 of the Cleveland Indians (Photo by Jared Wickerham/Getty Images) /
Cleveland Indians pitcher Bartolo Colon (AARON HARRIS/AFP via Getty Images) /
3 trade deadline deals when the Cleveland Indians sold but later won
The current edition of the Cleveland Indians are expected to be sellers at the 2021 Major League Baseball trade deadline later this week. After a run towards the division fell flat during a difficult July schedule, the Tribe's priorities shifted from trying to compete this season to building for the future. The team isn't giving up on this year, but there's an opportunity to cash in on some expiring contracts.
If there's a bright side to the unfortunate position it's that Cleveland has had a good amount of success at the trade deadline in the past as sellers. The team has been competitive for the better part of the last decade, so it's a position that is, thankfully, not as familiar as it once was. However, the history of the organization supports that perhaps the Tribe can find some diamonds at the deadline.
Going over the last 20 trade deadlines, there are a trio of deals that stick out from the rest that illustrate the club's success at the deadline. At the time these deals seemed like the waving of a white flag for that season, but the moves proved pivotal to the future success of Cleveland baseball. While the Tribe were sellers in the initial deal, it was in fact Cleveland that turned out to be the winners of all three deals.
Now, this hasn't always been the case. Like any other team, the Cleveland Indians have made moves that they might later regret. The good news is that the right trades outweigh the wrong over the last couple decades, beginning with these three.
If Cleveland does in fact become a seller at the deadline, the hope is that the front office will be able to replicate the success of these trades. The outgoing players might play different positions, but if the incoming talent can just scratch the success of these three deals, then the Tribe's front office will have walked away from this deadline looking like geniuses down the road.