Cleveland Indians: Omar Vizquel deserves to be in the Hall of Fame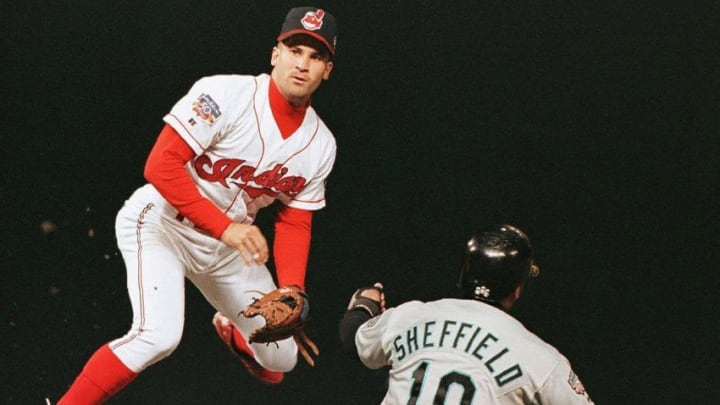 Cleveland Indians shortstop Omar Vizquel (Photo credit should read JEFF HAYNES/AFP via Getty Images) /
Cleveland Indians' shortstop Omar Vizquel (Photo by HEATHER HALL / AFP) (Photo by HEATHER HALL/AFP via Getty Images) /
Being on the Hall of Fame ballot for the fourth time, former Cleveland Indians shortstop Omar Vizquel deserves to be inducted in 2021.
Anyone who watched the Cleveland Indians during the 1990s and the early 2000s knows that Omar Vizquel should be in the Major League Baseball Hall of Fame. An acrobat at the shortstop position, Vizquel made plays that seemed impossible look routine, doing so across 24 seasons for six teams. However, he spent the most time in an Indians' uniform, playing from the Tribe for 11 seasons from 1994 until 2004, including all three of his All-Star appearances.
The knock against Omar Vizquel and his case for the Hall of Fame is that his offensive numbers didn't exactly match his defensive prowess. Despite being an All-Star just three time in his career, Vizquel was awarded the Gold Glove for shortstop 11 times during his major league tenure, including a streak of nine straight that spanned from 1993, his last season in Seattle, until 2001.
Adding to his defensive resume, Vizquel maintained a .985 fielding percentage over the length of his career at shortstop while turning 1,734 doubles plays. He also played 76 games at second base during his career, committing just one error on 280 chances.
To put it into perspective, Ozzie Smith, regarded as one of the best shortstops of all-time and a 15-time Gold Glove winner, had a .978 career fielding percentage, seven points lower than Vizquel's. Inducted into the Hall of Fame in 2002, Smith had more All-Star appearances and a Silver Slugger award to go with his defensive abilities as well.
So if offense is the difference, how far back is Vizquel? Well, for his career, Vizquel was rather average at the plate, maybe a little above. His slash line was .272/.336/.352 with just 80 home runs, but he was able to drive in 951 RBI while stealing 404 bases and drawing 1,028 walks. However, the more impressive offensive stat for Vizquel was his bunting.
Batting second behind Kenny Lofton for a solid chunk of his time with the Cleveland Indians, Omar Vizquel became lethal when it came to bunting Lofton over or just a bunt in general. Over his career, Vizquel led all of baseball in sacrifice bunts on four occasions, three of which came with the Indians. Over his career, he totaled 256.
What could hold Vizquel back from the Hall of Fame is that his two best attributes on the field don't really show up on the stat sheet too well. Being a defensive dominant player with the ability to bunt doesn't necessarily light up the scoreboard or fill the stat sheet, but it can be the difference in games.
For Omar Vizquel, this year will mark his fourth time on the Hall of Fame ballot and each year he has moved closer to the 75% of ballots needed to be inducted. This past year he received 52.6%, fourth among those that didn't make it. Only Curt Schilling, Roger Clemens and Barry Bonds received more ballots without making it to 75% and they will all be entering their ninth season on the ballot this year.
In an offseason where it might be hard for fans of the Cleveland Indians to find positives to focus on, the induction of Omar Vizquel could be a big bright spot should he receive the necessary votes. To the eye, Vizquel should be a shoe-in to the Hall of Fame. What he did while in the field was beyond incredible. Today, we refer to them as "Web Gems," but for Vizquel they were nearly an every day occurrence.
The downside is that it isn't an eye test for the Hall of Fame. Stats play into it more than anything and that's what is holding Vizquel back. While he was incredible at shortstop, he was just above average at the plate overall. What he did well with a bat in his hand is rarely looked at in terms of Hall of Fame voting.
In a year where big names are few and far between on the ballot, perhaps more voters will take a closer look at Vizquel. However, after one of the first Hall of Fame ballots came back blank, that might be a harder argument than some would think.  The blank ballot came from the same voter that only marked Derek Jeter last year.
As for Omar Vizquel, there is no question that he deserves to be in the Hall of Fame. To do what he did, for as long as he did, is an incredible feat in any sport. He still has time to make it, but 2021 should be the year he receives the call.