Indians smart to stay out of the Marcell Ozuna sweepstakes
The Cleveland Indians still need some outfield help, but were wise to avoid joining in on the Marcell Ozuna free agency sweepstakes.
Cleveland Indians fans are waiting to see if the team will sign anyone this offseason.
The outfield is where the team still needs some help and the main focus seems to be on whether or not the team will re-sign Yasiel Puig. If that doesn't happen, the chances of bringing in someone else are slim.
Yet some Indians fans may have been wanting the team to sign Marcell Ozuna. He ended up in Atlanta on a one-year deal.
Getting a player on a one-year deal would be an ideal situation for the Indians. Puig may want several years, which could be holding up a possible deal. Or the team is just low on him for some reason.
Anyway, Ozuna has been solid the past two years in St. Louis, but never replicated the success he had in Miami. $18 million for him is a reasonable cost when a team like Atlanta isn't pinching pennies. The Indians are strategic with every dollar spent and signing him for that cost after trading Corey Kluber and failing to extend Francisco Lindor would have been a shocking sight.
Ozuna posted a 2.2 WAR in 2019 after a mark of 2.9 in 2018. He did hit 29 home runs in 2019, but that figure can be done with several combinations in his place in right field. Right now, Ozuna appears to be just above average instead of someone at an All-Star level.
One benefit of the payroll being lower is that the front office won't take chances on guys who appear to be overpriced. Doing such a thing may cause ownership to get even tighter with the budget, so passing on Ozuna was a smart move.
Right now the ideal scenario is re-signing Puig. The alternative is rolling Jordan Luplow out as a full-time right-fielder. He did post a 1.7 WAR in 2019, but he is still rather inexperienced. He also only played in 85 games last year in his first semblance of full-time action.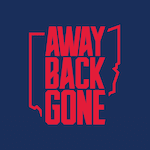 Want your voice heard? Join the Away Back Gone team!
Write for us!
The Indians like to be selective and signing a free agent for over $15 million per year is a rare sight. That remains true this year and while fans want the team to spend, Ozuna was not the right guy to give such a contract.