Cleveland Indians All-Decade Team Studs and Duds: Pitchers and Bench
The Bench
One thing I noticed when doing the studs and duds for the position players was that some players just played too many different positions to win a dud award and some players while never stars were quite good coming off the bench or in platoon/utility roles. So in the final portion of our studs and duds of the decade, we'll look at both the memorable and forgettable bench players, one outfielder and one infielder for each.
The stud utility infielder for the Tribe this decade was a tricky decision. Not a lot of backups played well on the infield for the Tribe. Russell Branyan came to mind though he was more of a first baseman only and all bat (though that 124 wRC+ was most impressive). Jayson Nix and Jason Donald were two Jasons guys that played a lot better than people remember or want to admit. In the end, though, I went with Mike Freeman, perhaps based on recency bias but his 1.0 fWAR was tops among bench guys that played multiple infield positions.
He wasn't just a glove guy either like so many utility men as he hit a respectable .277/.362/.390. While his wRC+ may have only been 99 (or essentially league average), that on-base percentage alone made him one of the most valuable bench pieces the Tribe has had in a season in a long time.
For as bad as the Tribe outfields have been this decade, you'd have thought it would be hard to come up with a good bench outfielder due to not enough candidates but I surprisingly found the opposite to be true. Guys like Shelley Duncan, Austin Jackson, and Brandon Guyer had good stints as bench/platoon players for the Tribe this decade.
Jordan Luplow also burst onto the scene this past season and nearly won the award based off his 2019 play alone. However, Ryan Raburn is the one that takes the crown here. His 2.3 fWAR just edged out Luplow (2.2) and while he needed double the plate appearances to do it I felt his play over a longer time warranted the award over the hot year Luplow had.
Raburn was no slouch at the plate either hitting .257/.335/.465 with a 120 wRC+ in 243 games and 690 plate appearances. Raburn will always be remembered for that spike throw in the outfield, but he should be remembered as being the best bench player the Indians had this decade.
The dud utility infielder for the Tribe this decade was really a three-man race for the bottom. Mike Aviles, Michael Martinez, and Cord Phelps were the three that battled it out for the dud of the decade. Phelps posted the lowest fWAR at -1.2 and had by far the worst batting line, hitting a putrid .159/.221/.248.
However, he also only played in 53 games and amassed just 123 plate appearances. Mike Aviles meanwhile posted a -0.9 fWAR in 335 games and 1085 plate appearances. He hit better but still just a .244/.279/.345 mark with the same 70 wRC+ that Lou Marson had. Martinez was slightly worse than Aviles at the plate hitting .257/.289/.331 with a 64 wRC+. But like Phelps, he did it in only 90 games and 145 plate appearances, which explains why his fWAR was "only" at -0.4.
So after much deliberation, Mike Aviles edges out Phelps and Martinez for the dud bench player of the decade. He's the choice since he stuck around the longer (three seasons) and his time in the last two years, in particular, were very bad. Overpaid and played in far too many games. His only saving grace was a decent stretch at the beginning of 2015 that gave Lindor the time he needed in Triple-A. But not even that could save him as he posted a -0.9 fWAR in that season alone.
The dud outfielder of the decade goes to a guy that I mentioned in the outfield portion the last week. Aaron Cunningham could have been the dud in either left field or right field but I felt he split too much time to take the crown at either position.
Here though? Not much of a contest really. In 72 games and 109 plate appearances, he posted a -0.5 fWAR, worst among outfielders for the Tribe and hit just .175/.245/.247. No, that's not a typo, his slugging was really almost lower than his embarrassingly low on-base percentage. His 36 wRC+ was the third-lowest among players with at least 50 plate appearances, ahead of only Jesus Aguilar (19) and Cord Phelps (32). Only JB Shuck really came close to taking this award from him but only 26 plate appearances made it an easy call.
One dishonorable mention I wanted to include here would be Chris Gimenez. A backup catcher and utility man, Gimenez had a couple of stints with the Tribe and they were all bad. His -0.7 fWAR was the seventh-worst among players with at least 100 plate appearances. I didn't do a backup catcher stud/dud but if I did, Gimenez would have won the dud award for sure.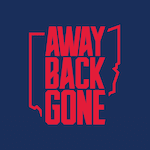 Want your voice heard? Join the Away Back Gone team!
Write for us!
So there you have it, the last of our Studs and Duds of the Decade for the Cleveland Indians. Plenty of names that will live on forever in Tribe lore, some that may have their numbers retired or in the Tribe Hall of Fame. And plenty that people can't forget fast enough. So who are some studs and duds that you feel I missed? Who do you think will be some studs and duds of the next decade? Let us know in the comments below.
<!—pageview_candidate—>