Indians near the top of ESPN's 2019 fan misery rankings
The Cleveland Indians are somewhat near the top of ESPN's list of the most miserable fan bases in the major four professional sports leagues.
Cleveland sports fans are dealing with another wild end of the year when it comes to the football team.
The Indians are also keeping things interesting with the whole "will he stay or go?" with Francisco Lindor. We can't just have a nice dull winter.
ESPN dropped its 2019 list of the most miserable fan bases in professional sports and as expected, the Indians were near the top. The team finished at No. 37 overall out of 123 total teams. Sacramento Kings fans were ranked the most miserable while New England Patriots fans are the least. Good for them…
Browns fans were No. 4 in misery while Cavs fans were No. 118. So there is plenty of variation when it comes to Cleveland sports fan. I am personally a fan of all three teams so the misery of the Indians and Browns stands out to me more.
These misery rankings take things like championships, playoff wins, heartbreaks, and rivalries into account. The Indians are out of the top 25 thanks to some playoff success. But when it comes to heartbreak, it is tough to compete with the Indians.
There is also a bonus for not winning a title in the last 25 years. So not winning since 1948 qualifies for quite the bonus.
I don't want to dwell on this list too much. The Indians have already bummed me out enough, but there has also been plenty of positives to be excited about throughout the years. I just think this is a fascinating list and it is interesting to read about all the different fan bases in pro sports.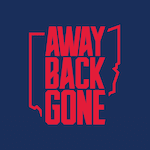 Want your voice heard? Join the Away Back Gone team!
Write for us!
What is your thought on the No. 37 misery ranking? Too high? Or far too low?