Indians: Remembering the insanity of Tyler Naquin's 2016 walk-off
The end of the decade is a perfect time for Cleveland Indians to look back on some of the craziest moments of the past 10 years.
When looking back at the best Cleveland Indians moments of the decade it is easy to simply focus on the 2016 season. So many magical things happened and of course the memories are sweeter when they happen in October.
I joined this site on August 17, 2016. Two days later, this happened:
The chills have returned!
Tyler Naquin came to bat with the game tied in the bottom of the ninth and responded with an inside-the-park walk-off home run. I distinctly remember this moment because I was flipping back and forth between the Indians game and Usain Bolt's race in the 2016 Summer Olympics. I flipped back just in time.
The crazy thing is that the walk-off was so fun, fans may have forgotten that Jose Ramirez had homered right before Naquin to make it 2-2. The stadium was already alive and buzzing when Naquin's ball went into the air.
Just think about the insanity of this moment. If Naquin hits it just a foot farther, we remember a nice moment but nothing out of the ordinary. Instead, a little bit of wind kept the ball in the park and we have one of the best regular season moments I can remember in Indians history.
I often get in YouTube holes where I watch Indians highlights from the past. I know, what an exciting life I live. Anyway, the Naquin walk-off has stuck with me for years because of just how rare the moment was. His "horns up" celebration was a picture that defined the season and the Indians had captured the excitement of the city months before October even began.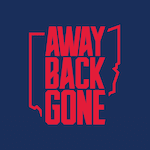 Want your voice heard? Join the Away Back Gone team!
Write for us!
2016 was the year the Indians were finally good again and Naquin's big moment is one that will live on forever.