Cleveland Indians: The casual excellence of Francisco Lindor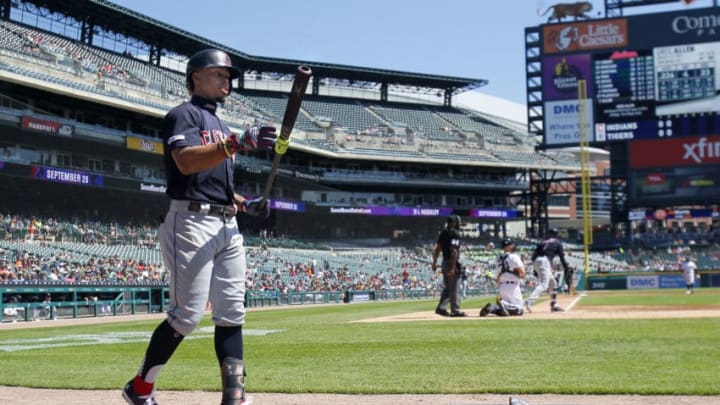 DETROIT, MI - AUGUST 29: Francisco Lindor #12 of the Cleveland Indians warms up to bat against the Detroit Tigers during the third inning at Comerica Park on August 29, 2019 in Detroit, Michigan. Lindor hit a solo home run during the third inning and the Indians defeated the Tigers 2-0. (Photo by Duane Burleson/Getty Images) /
Francisco Lindor is approaching a level of sustained greatness at which it's fair to say even the recognition he gets isn't nearly enough.
Francisco Lindor launched a solo home run in the third inning of Thursday's matinee in Detroit to give the Cleveland Indians a 1-0 lead they would never relinquish. The solo shot continued what is now an 11-game hit streak for Lindor–a stretch most players would do anything to achieve just once in a season, but which has become relatively routine for the Tribe shortstop.
Prior to embarking on this 11-game tear, Lindor carried a nine-game hit streak that ended with an 0-for-4 showing on August 16. In other words, he has hit safely in 20 of his last 21 games.
Lindor also has hit streaks of seven, eight, and 10 games to his credit in addition to his current stretch, and these instances aren't just haphazardly scattered throughout the season in the midst of otherwise unimpressive groupings.
In the first two games of a series against the Rangers earlier this month, Lindor did not record a single hit. The last time he went hitless in two consecutive games before that was in the first week of May.
Lindor has become so consistently great that it almost goes unnoticed. You stop paying attention for a minute, then by the time you turn around, he's got another home run, or another double, or another half-dozen-game hit streak.
Sure, it's easy to get lost in the shuffle among so many other shortstops who are also brilliant at their craft. But let's imagine for a moment that Lindor didn't miss nearly the entire first month of the season.
Live Feed
Ron Kulpa ejected Terry Francona and Phil Nevin, then had to leave game himself (Video) /
FanSided
He ranks seventh among AL shortstops in runs scored (78), is tied for fourth in home runs (24, with 90 fewer plate appearances than the guy he's tied with, Marcus Semien), and fourth in fWAR (4.3). He ranks 12th among all AL position players in fWAR, is inside the top 20 in runs, and just outside the top 20 in homers.
For what it's worth, he also ranks eighth in the entire American League in doubles with 34. Where would he be on these leaderboards if he had an extra month's worth of plate appearances to work with?
It's also easy to fall into the background behind Carlos Santana, whose career year has at times single-handedly propelled the Indians to victory. Santana has already surpassed his career high in runs scored, will soon achieve the 90-RBI threshold for the first time ever, and needs just five homers to eclipse his previous best in that category as well.
Sprinkle in an uncanny knack for hitting go-ahead rockets in extra innings, and it's not hard for Santana to be the player who stands out in your mind on the 2019 Indians. And that's perfectly fine for Lindor, who is likely content to continue going about his business at the most ho-hum of elite levels.
If the Indians make the playoffs, whether it be the Wild Card Game or the Divisional Series, millions of people are going to see Lindor's 2019 stat line spread across the bottom of the screen as he steps into the batter's box for the first time.
For a small fraction of us, it will be like reading a text that states the sky is blue. For those who haven't had the privilege of watching him on a regular basis, they're all going to be asking themselves: "Why don't we hear about this guy more?"