Cleveland Indians: The playoff picture with one month to go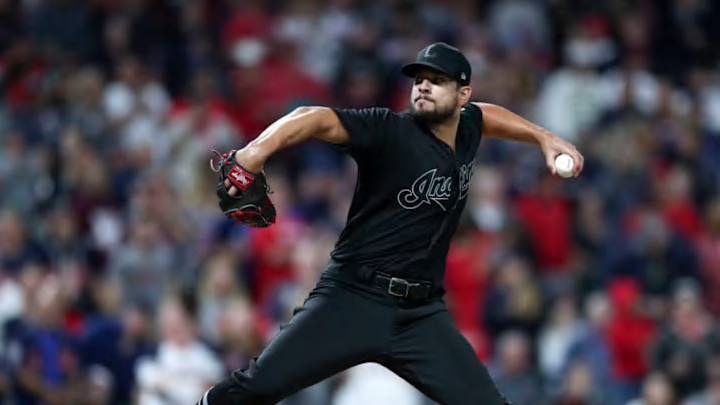 (Photo by Ron Schwane/Getty Images) /
The Cleveland Indians are fighting for a playoff spot in 2019 after several years of winning the division without any competition.
Fake fall is here as the weather cooled down for a few days, only for the forecast to show heat once again.
That won't stop me from enjoying my pumpkin coffee. Anyway, let's talk about the Cleveland Indians and their fall plans.
The Indians have coasted to the postseason each of the past three seasons. That is not the case in 2019. At least not yet.
The Indians sit 3.5 games behind the Minnesota Twins as it stands right now. In the Wild Card race the Indians remain at the top with a .5 game lead over the Tampa Bay Rays. The Oakland Athletics are one game behind the Indians.
Winning the American League Central division remains the goal. While some fans may be panicking, the Indians are still in great position to overtake the Twins. The key is winning the six head-to-head matchups remaining on the schedule.
The Twins clearly have the easier schedule for the remainder of the season so it is crucial for the Indians to take at least four or five of the remaining six games against the Twins. Anything less and the Indians may be solely focusing on a Wild Card berth.
That is not a given either as the Indians, Rays, and A's will likely keep shuffling in and out of the top two spots over the next month. The A's do play tonight against the Kansas City Royals, which should be an easy win. Then again I thought that about the Indians against the Royals on Sunday.
The Indians and the Rays do meet up for a three-game series this upcoming weekend. This is just like the series against the Twins where a dud outing by the Indians could really torpedo the playoff chances. The difference is that there is still a second Wild Card spot to be had.
Yet going on the road in the Wild Card Game is not what Indians fans had in mind when the season began.