Cleveland Indians should make qualifying offers to Brantley and Miller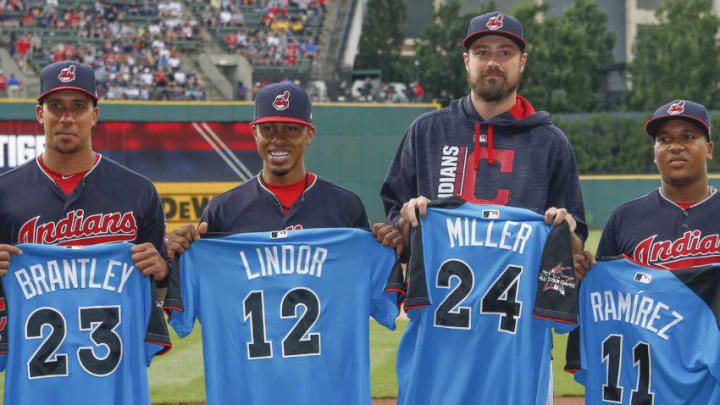 CLEVELAND, OH - JULY 09: Michael Brantley #23, Francisco Lindor #12, Andrew Miller #24 and Jose Ramirez #11 of the Cleveland Indians receive their All Star jerseys before a game against the Detroit Tigers at Progressive Field on July 9, 2017 in Cleveland, Ohio. (Photo by Ron Schwane/Getty Images) /
Despite the high cost and payroll constraints, the Cleveland Indians should extend qualifying offers to both Michael Brantley and Andrew Miller.
Today is the deadline for teams to extend qualifying offers to their eligible free agents, and the Cleveland Indians have a couple of big decisions to make.
The Indians have a couple of players who could be in the discussion for such an offer but only two should get any real consideration: outfielder Michael Brantley and reliever Andrew Miller.
Despite the high offer number ($17.9 million), the Indians should extend offers to both of their highly prized free agents.
Why Brantley should get one
Michael Brantley getting a qualifying offer shouldn't take much discussion. He was a three-win player in 2018 and has a history of being a very good hitter. Yes, he had some injuries that mostly ruined his 2016 and 2017 seasons, but he was still an All-Star the last two years and given that he's now in his 30s he'll almost certainly want a long-term deal.
Brantley may have some trouble finding the deal he wants, like Mike Moustakas did, but Brantley's bat is good enough teams should bite even with a qualifying offer attached.
And for the Indians, even if Brantley were to accept the offer, one can easily argue Brantley on a 1-year/$17.9 million deal is a bargain in free agency. The Indians would need to move some money around perhaps to make it work but it's not the type of deal that would kill them financially, thus there is virtually no risk to the club.
Why Miller should get one
Yesterday our own Steven Kubitza talked about why the odds of Miller receiving the offer are slim and I fully agree with him here, at least mostly. I think the Indians should make the offer but think they ultimately will feel the tight budget and risk of Miller accepting after down year will be too great.
I fully understand that logic and won't fault the Indians if they do go that route. However, the Indians should, in my opinion, be bold and extend the offer regardless.
Miller may have struggled in 2018 but leg injuries are not arm injuries. A full offseason of healing should ideally have Miller back to his old ways in 2019. Sure, he could decide to accept the offer and rebuild value for 2020, but we saw Wade Davis get three years and $52 million after a down year so Miller could easily be eying that type of deal.
He's not getting any younger either so waiting a year could be too risky for Miller. Someone will give him more than $17.9 million even if it takes him two years to get it.
So again, I understand why the odds may be low on a Miller qualifying offer, but the Cleveland Indians absolutely should extend it. The reward of a draft pick outweighs the risk of getting "stuck" with Miller.
What about Allen?
No. I love Cody Allen and he's been great for the Indians but there's a100 percent chance he would accept an offer and he just was not worth close to that recently. He'll be lucky to get a Joe Smith type deal and he is probably looking at a one-year deal to build value.
He's the type of guy you'd take back if you're the Indians, but at about half the cost of a qualifying offer. The risk does not outweigh the reward at all here.
So what do you think, should the Cleveland Indians extend qualifying offers to both Michael Brantley and Andrew Miller? Or just to Brantley? Or do you think they should extend no offers? Let us know in the comments below. We will know by 5 p.m. today just what the Indians decide so stay tuned!