Cleveland Guardians News
Cleveland Indians: World Series emphasizes Tribe's outfield needs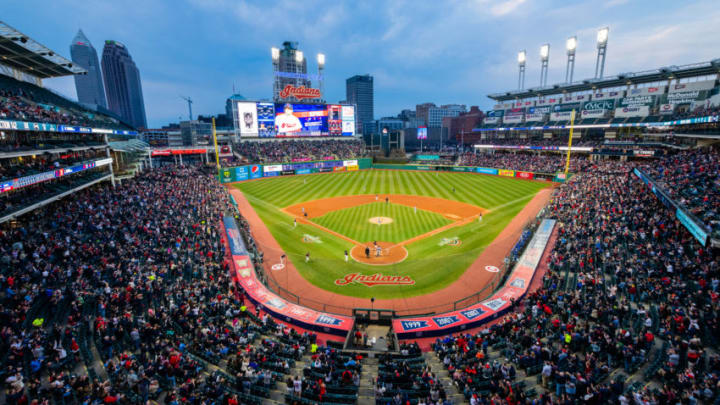 (Photo by Jason Miller/Getty Images) /
The Cleveland Indians watched the 2018 World Series from home. If they're going to make a run at the 2019 Fall Classic, they must learn from Boston and L.A.
After arguably the most unceremonious playoff exit in franchise history, the Cleveland Indians had a disappointing head start on the road to spring training. Now that the World Series is firmly in the rear view, it's time to begin putting into action whatever plans the Indians' top brass may have come up with over the last few weeks.
With a few key players hitting free agency (Michael Brantley, Andrew Miller, Cody Allen), a few more due arbitration raises (Francisco Lindor, Trevor Bauer), and a few more yet entering final guaranteed years of their contracts (Jason Kipnis, Edwin Encarnacion, Yonder Alonso), the Tribe's front office personnel have their work cut out for them.
Chris Antonetti and company are going to have to get creative in order to conjure up payroll flexibility, and it seems unavoidable that the team will have to part with at least one of Kipnis, Encarnacion or Alonso in order to pull it off.
If and when the Indians find themselves able to break free from their financial restraints, the next item on their to-do list must be to finally fix the outfield. The Tribe's outfield over the last few seasons has been a collection of fringe utility players, short-term trade acquisitions, unknown quantities, injury concerns and Michael Brantley. Several of the Indians' outfielders since 2016 fall under more than one of these categories.
In order to understand why this simply won't cut it in 2019, we don't need to look much further than the vast expanses of grass at Fenway Park and Dodger Stadium, where two very different–yet equally effective–groups of outfielders just finished slugging it out for a World Series.
Killer B's with killer gloves
On the American League side of things, the 2018 Boston Red Sox boasted one of the most elite defensive outfields the game has seen in quite some time. Andrew Benintendi, Jackie Bradley Jr. and Mookie Betts are all so proficient on defense that Alex Cora actually had a difficult time deciding how to fit "fourth outfielder" J.D. Martinez into the lineup when the Series moved to the National League venue.
He eventually elected to sacrifice Gold Glove defense in right field by allowing a guy who nearly won the Triple Crown to play there instead.
That, folks, is what they call a first-world problem.
In any case, the Red Sox were able to use Martinez primarily as a DH for most of the year prior to those games at Dodger Stadium, and that's due in large part to the defensive prowess of the outfielders they already had in place.
It stands to reason that, with the emphasis being placed on launch angles and fly balls in this current phase of baseball, other teams will try to emulate what Boston has defensively in their outfield. That'll be easier said than done, as players like Benintendi, Bradley Jr. and Betts don't exactly grow on trees.
It'll be especially difficult for a team with the budgetary restrictions the Indians are facing, which brings us to the National League representative in the 2018 Fall Classic.
Dodger depth
While the World Series champions were able to roll predominantly with a trio of excellent outfielders throughout the season, the Dodgers had a different kind of weapon in their arsenal: outfield depth.
Los Angeles had six different players record at least 200 at-bats as outfielders throughout the regular season: Yasiel Puig, Cody Bellinger, Joc Pederson, Chris Taylor, Matt Kemp and Enrique Hernandez.
Bellinger, Taylor and Hernandez also recorded significant chunks of their at-bats from infield positions as well, but that doesn't change the fact that Los Angeles had the unique ability to deploy two completely different outfields from one game to the next without sacrificing much offensively or defensively.
The argument can be made that the matchup splits that resulted from this depth prevented the players in question from getting into a groove in the World Series (the Dodgers started Games 1 and 2 with Bellinger on the bench against left-handed starters, for instance), but having this kind of flexibility in the first place provided Dave Roberts with options most managers don't have.
It might be just as difficult to find a stable of five or six serviceable outfielders as it is to acquire three elite ones, but if the Indians want to shore up what has been a patchwork (at best) outfield this winter, the Dodgers' model is probably the more realistic one to pursue.
In fact, it wouldn't be the worst idea in the world for Antonetti to get on the phone with the Dodgers front office and see what the asking price is for guys like Pederson, Taylor or Hernandez.
The Tribe won't be able to land any high-priced free agents to man the grass at Progressive Field, and unless they're willing to mortgage their future on the trade market, it's going to be difficult to pry any controllable stars from their respective teams. The Indians' best bet, then, is to make crafty moves that fit their budget in order to wind up with a handful of productive players who can play the outfield regularly.
Regardless, the days of throwing Brantley out there and hoping for the best out of center and right need to be put just as far in the rear view as the disappointment of the ALDS–especially considering the high likelihood that Brantley isn't even an option anymore.
The Indians have been able to divert attention away from the voids in their outfield for three consecutive seasons by being two-thirds of a complete team: they've had an exceptional infield and one of the best pitching staffs in baseball since 2016. What we learned from watching this World Series, however, is that two-thirds isn't going to get it done.
If the Indians are going to be the last team standing in 2019, it's not going to be because they disguised their flaws. It's going to be because they eliminated them.