Cleveland Indians: How a fans' view of Trevor Bauer changed
After years filled with trials and tribulations, Trevor Bauer found his magic after a career year with the Cleveland Indians in the 2018 season.
I remember a time in 2017 when it felt like Trevor Bauer allowed a home run in every start. He didn't really, but I must admit that my faith in him had wavered. After the 2016 drone incident, I'd lost confidence in the Cleveland Indians outspoken pitcher. Fortunately for me and the rest of the Cleveland Indians fan base, Bauer never lost faith in himself.
Trevor turned things around in July of 2017. Something happened that helped him. He started winning. The run run-support he got helped, sure but he also started pitching better. Bauer wouldn't lose another game in 2017 (except for the loss that ended the 22-game winning streak.
2018 started off beautifully for Bauer. He took off and never looked back. Trevor Bauer looked absolutely unstoppable for the first half of the 2018 season. Anytime he lost, it didn't feel like his fault. That was a weird feeling for me because I was so used to blaming him in 2017. What changed that? His 2017 ALDS performance.
Trevor Bauer absolutely blew me away with his Game 1 Performance in the ALDS. The anxiety I had going into that game was matched only by the people actually playing the game. Still, Trevor went out there and completely changed my opinion about him. He won the hearts of any fan who still had their doubts about him.
When I watched him go out and dominate in 2018, I felt like I'd been riding the Bauer train all along. It's weird to look back and see just how differently I viewed him. Bauer finished 2018 with the best ERA of his career and as a serious Cy Young contender. Had he not been injured, there's a good chance he finishes as the sure-fire winner of the award.
Having Bauer in the bullpen was the safe move for the Cleveland Indians in the 2018 ALDS. I understood it, but it felt like such a waste of his potential. Bauer is a starter and a damn good one. Not having him in the rotation after an incredible season felt like a crime.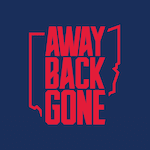 Want your voice heard? Join the Away Back Gone team!
Write for us!
In the end, the thoughts of one fan may not mean much. But it's interesting to see just how far Bauer has come. Whether people like him or not, he's here to stay and he's become an ambassador of modern baseball. I'm definitely choosing to welcome him.