Cleveland Indians: Trevor Bauer to appear on MLB Network tonight and tomorrow
Surely Trevor Bauer will have some interesting things to say as the Cleveland Indians pitcher will be a part of the networks' pre and postgame coverage.
Hooo boy this is going to be good. The ever-outspoken Trevor Bauer is set to appear on MLB network for tonight's postgame coverage as well as pregame coverage for tomorrow.
The Cleveland Indians along with Bauer made the official announcement of this via Twitter.
Bauer will serve as a guest analyst alongside Bill Ripken, Greg Amsinger, and Al Leiter. Tomorrow he will be seen with Dan Plesac, Ripken, and Brian Kenny. I can't wait to see Brain Kenny and Bauer nerd out over analytics and sabermetrics.
Speaking of analytics, this comes off the tail-end of a scandal involving the Houston Astros using some… "advanced analytics." We may very well just be seeing the beginning of this Bauer/ Astros rivalry, as I'm sure he'll have some choice words involving the incident. He's already taking some subtle jabs with the #NeverSettle jokes on Twitter.
Bauer has appeared on shows like Intentional Talk and other shows on the network during their All-Star week coverage, and he's no stranger to humor. While many have come to have a distaste for Trevor's outspoken quips, Indians fans have come to embrace him and his tweets.
He has also asked that fans give him feedback to what he is good and bad at on the network. That's fitting seeing that Bauer is known for analyzing everything he does from the movement of the ball to his pitching motion. Surely fans will find a way to crack some jokes about his performance on the network… and I'm sure Bauer will crack back.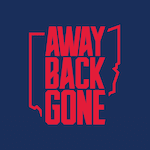 Want your voice heard? Join the Away Back Gone team!
Write for us!
The show can be seen after the ALCS tonight. If the Astros were to lose, Bauer might find himself having a field day. But with all of this news that's come out, I'm sure Bauer will have a blast with the Network guys anyhow.