Cleveland Guardians News
Cleveland Indians History: When the Indians had their season pulled out from under them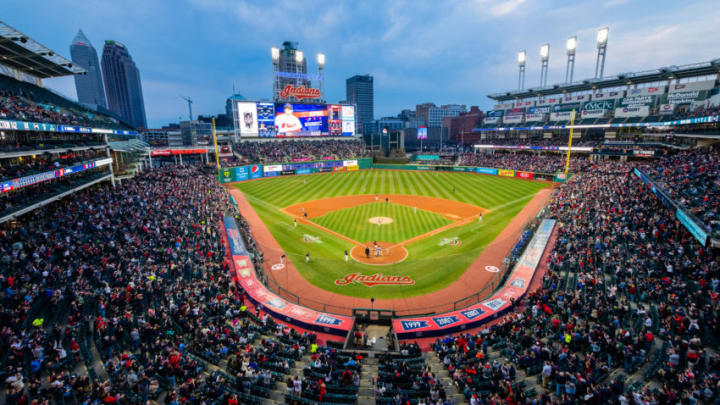 (Photo by Jason Miller/Getty Images) /
In all of baseball history there have been two times when a season ended early. The Cleveland Indians wound up being affected 100 years ago.
A look back at a memorable year in Cleveland Indians history.
1918:  The year the season got canceled early due to war but the playoffs did not
The 1918 Cleveland Indians had Hall of Famer Stan Coveleski heading up the staff and Hall of Famer Tris Speaker in center field.
Add in supporting cast members like Jim Bagby and Ray Chapman and you had a team that could have been the first Cleveland World Series team ever. If only things had worked out a little differently.
But there's also that war thing
By 1918 baseball's minor leagues had been shut down, but the owners wanted the major league money to continue. They scheduled a 140-game season as a way to allow the baseball players to serve in the war, but still play the season. This worked for a while. But on July 1, Secretary of War Newton Baker issued a "work or fight" order. Any draft eligible man in a "non-essential" vocation had to take a war-related job or get drafted.
For a while baseball was not recognized as "non-essential".  This sounds a little like waffling to me. No one wanted to call baseball "essential", but they still wanted to have major league baseball so they didn't call it "non-essential" either.
Then Newton Baker essentially said "Give me a break…"  Owners agreed to end the season at Labor Day, have a quick World Series, and that would be that.
A quick side note on Newton Baker
He was mayor of Cleveland from 1912 to 1915.
Back to our story
On August 12 the Indians won at home, moving to 15 games over .500 and closing to two games behind the Red Sox.
Then they went on the road. For the rest of the season. At New York, Boston, Washington, Philadelphia, Detroit and Chicago. They finished nine games over .500 and 2.5 games back.
This brings us to a key point about the early end to the season. Some teams would wind up playing more home games (and take fewer month-long train trips) than others.
Guess who caught the break?
For the year the Indians played 60 games at home (38-22) and 67 on the road (35-32).
The Red Sox played 70 games at home (49-21) and only 56 on the road (26-30).
Would a full season have given a different result?
I created a spreadsheet (it's what I do) and the result was a little disappointing. It shows that a full season of 140 games would have been about 81 or 82  wins for Boston, and 80 or 81 wins for Cleveland. I wanted a spreadsheet that said "Yeah, the Indians would have won easily," but it might have been a one-game playoff. Against Babe Ruth.
Still would have been better than having the season canceled. By a native Clevelander no less.
What happened the next year
In 1919 baseball was still worried about not having a patriotic image, so the season was shortened to 140 games. The September 1919 Indians were hot, winning ten games in a row at one point. The White Sox lead, which had been 7.5 games on September 17, was down to 3.5 games on September 28. Would an extra 14 games have made a difference?
(Pause to acknowledge that my last sentence sounds like every episode of Ancient Aliens ever).
The short answer is probably not. The White Sox rested up their starting pitchers toward the end of the season (so they would be rested to throw the World Series later). They wouldn't have pitched Eddie Cicotte only two innings on the last game of the season if it had mattered.
A short look at baseball history and the Black Sox
Conspiracy theorists like to say that Comiskey did this on purpose to hold Cicotte at 29 wins and avoid paying a bonus. Doubtful, since official scorers could assign the win to a starting pitcher without five full innings (1950 was when the rule requiring five innings became official).
Of course official scorers could also assign the win to whoever they wanted, and there were unofficial letters that said things like "should pitch half a game to get a win." The Reds only pitched their ace (Dutch Reuther) five innings in his last start. Resting ahead of the World Series seems to have been a real thing, even 100 years ago.
In any case, the White Sox used a scrub pitcher starting in inning three, and Cicotte's 2-1 lead turned into a 10-9 loss.
We all know what happened from there. The Black Sox threw the series, got banned in 1920, and the Indians won it all.