Cleveland Guardians News
Cleveland Indians: 3 rebound performances from dismantling of the Twins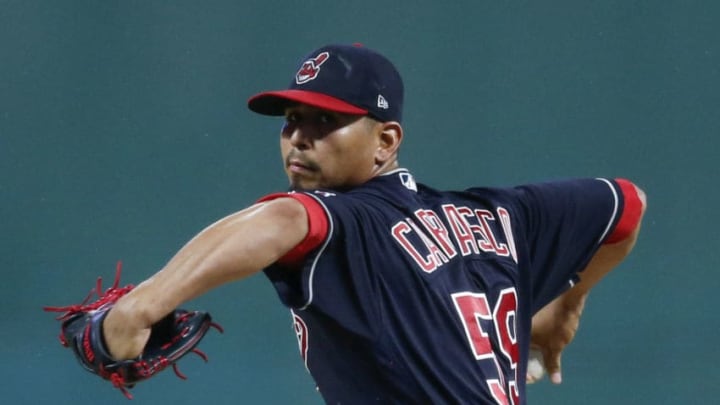 (Photo by Ron Schwane/Getty Images) /
The Cleveland Indians have struggled recently but three of their most important players discovered newfound life in their most recent win over the Twins.
They did it. They finally did it you guys. The Cleveland Indians actually beat the Minnesota Twins and they beat them handily.
8-1 was the final Tuesday night as Carlos Carrasco was dealing and the bats were on fire.
I know, I know. They should  beat the Twins and by a lot. But that's just it. They normally don't. Coming into this game the Indians were just 8-8 against the Twins this season.
8-8.
If you refer to them as the number two team in the AL Central then sure they could have close matchups. But they're 61-70. They're now 14 games behind the Indians despite almost being .500 against them.
So it was nice to finally see Cleveland smack the Twins around a little bit. And hopefully it can continue.
Have yourself a day Frankie
Francisco Lindor has been COLD in the second part of August. From Aug. 14-26 Lindor had 49 at-bats with just 10 hits. That's a whopping .204 average.
Not ideal.
Lindor has clearly been in a slump. Nobody needs the numbers to know that. But it looks like he got it back Tuesday night.
He led Cleveland going 4-5 and set the tone all night for the Tribe. It tied a career high for hits in a game by Lindor, who also pushed his lead in runs scored in the AL by scoring twice in the game.
Not just one slump broken
Another Indians star has also been slumping through much of August. AL MVP candidate Jose Ramirez went 2-4 with three RBI's and a run scored for good measure.
Ramirez had just one hit over his last four games and was slumping even worse than Lindor, hitting just .128 (5/39) since Aug. 15 leading up to this game.
Ramirez is still sitting close behind in third place for both AL runs batted in and AL home runs, but he will need to make a strong push to close out August and going into September if he wants to continue to increase the MVP buzz that has been swirling around him.
Pitchers can bounce back too
Cleveland didn't have just an offensive rebound, they had a defensive rebound as well. Specifically, Carlos Carrasco.
Carrasco was…. let's say "less than stellar" in his last outing. While in Boston for their four-game series last week, Carrasco tossed just three and two-thirds innings before getting yanked.
This was due to him giving up eight hits and six runs (five earned) in those three and two-thirds innings.
So not the best.
But he seemed to put that well behind him Tuesday night. Yes, it was just the Twins, who compared to the Red Sox who rocked him last week is like comparing Hawaii's little league team to…..the Red Sox (hey Hawaii just won it all that is not that big of a diss).
But still, Carrasco bounced back big time.
Tuesday night he went seven and two-thirds innings, giving up just four hits and tacking on 11 strikeouts along the way.
The win tied him with teammate Corey Kluber for second in wins in the AL (a meaningless stat but hey, second place!)
There was a bit of a scare in the fifth inning as Carrasco took a liner off his glove hand, but he remained in the game and remained strong.
Hopefully this can be a consistent outing for Cookie as the playoffs are rapidly approaching.