Cleveland Guardians News
Cleveland Indians: Will they make a move at the waiver deadline?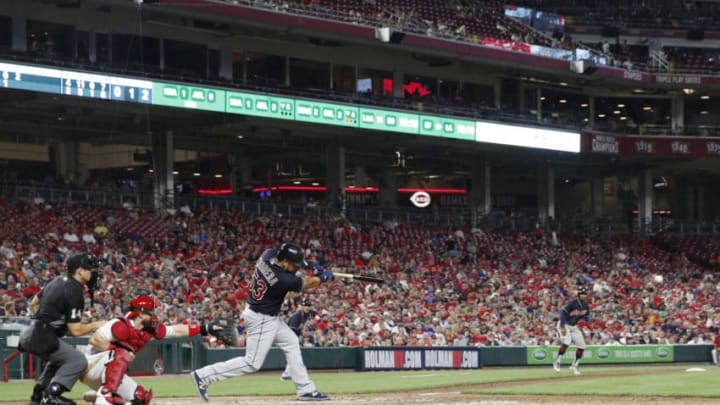 (Photo by Joe Robbins/Getty Images) /
We're in the final week of August which means that the MLB's waiver deadline is quickly approaching. Will the Cleveland Indians use it to add to their roster?
By now we know that the Cleveland Indians are all but guaranteed a spot in the 2018 MLB playoffs. But now the Indians have a new objective; they want to earn a higher seed in the playoffs in hopes of having a some playoff series.
They likely won't be passing the Red Sox in the standings. No one will. But the Indians do have a shot at earning the number 2 seed in the AL. It would require getting a better record than the Oakland A's and Houston Astros.
While it isn't a daunting task, it won't be easy without some backup. Their outfield is depleted and they could use some help. The Indians released an update that Lonnie Chisenhall won't be back anytime soon. Tyler Naquin is still weeks away as well. Bradley Zimmer and Leonys Martin won't be back for the rest of the season, and Rajai Davis has….. you know.
That leaves just four outfielders currently on the roster. Michael Brantley, Greg Allen, Melky Cabrera, and Brandon Guyer. Jason Kipnis can be used as a OF, but manager Terry Francona has reportedly shot that idea down.
The Indians should make a move for an outfielder. The one outfielder they acquired at the deadline dealt with a serious medial condition, rendering that move ineffective. There are two big outfielders that have cleared waivers. We've written about them both before.
Adam Jones has cleared waivers, but he did turn down a trade to the Phillies at the deadline. While he has cleared waivers, he doesn't seem like he wants to leave Baltimore just yet. He has a no-trade clause in his contract that he will likely not waiver, despite clearing MLB waivers.
That leaves another big name on the MLB's waiver wire. Andrew McCutchen will likely be moved by next week as the San Francisco Giants also placed him on waivers. The Indians have been linked to him before. When I wrote about him possibly coming to Cleveland, I compared his numbers to Martin's. But now that the Indians don't have Leonys, the move makes all too much sense.
There is still a week for these things to unfold, and it will be interesting to see what the Indians give up for McCutchen in taking on his contract. But they'll have to make an offer for him first, and after giving up two of their top ten prospects this season, we'll have to see if the Indians will be willing to give up any more.