Cleveland Guardians News
Cleveland Indians: A quick look back at Tuesday's rain-soaked loss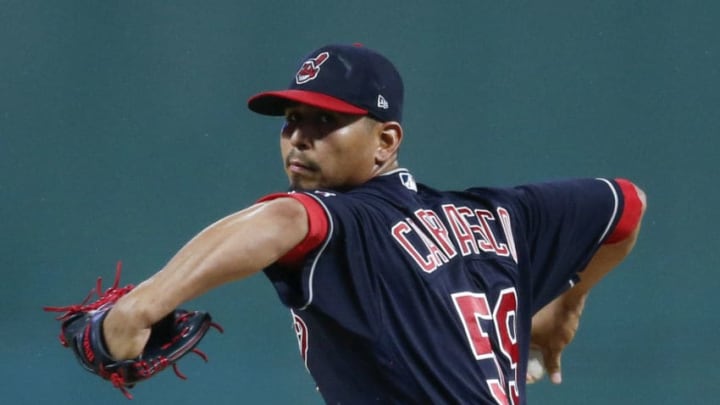 (Photo by Ron Schwane/Getty Images) /
The Cleveland Indians provided too little too late on offense in a loss to the Minnesota Twins in a game that was frustrating from the start.
That was not a fun one.
The Cleveland Indians timed out some fans Tuesday night thanks to a rain delay that caused the game to start over two hours later than expected. Unfortunately, the wait didn't yield a win.
It was a late one so instead of the normal takeaways we will keep this one quick. Such is the case when a Tuesday night game doesn't end until Wednesday morning.
This was a frustrating one throughout for Indians fans. Carlos Carrasco made one mistake in the game and it came when rain was falling rather heavily after a two hour delay. He gave up a three-run home run to Mitch Garver in the the second inning that made the score 3-0. That lasted for most of the night.
But the offense finally woke up in the eighth inning when Francisco Lindor hit a bomb into the seats to make it 3-1. Then Leonys Martin continued to build his goodwill by hitting a sacrifice fly to make it 3-2. The comeback was on its way! Or so I thought.
This was one of those games where the comeback seemed so close within reach. Andrew Miller pitched 1.2 scoreless innings of relief in front of the rain-soaked faithful and the magic was in our thoughts. Neil Ramirez even threw a scoreless inning of relief. Alas, it was not the Indians' night.
Games like this are almost hard to recap. Not much happened on offense until the end and Carlos Carrasco's one mistake was the difference in the game. But you won't find us blaming Cookie. He did allow 10 hits, but only three runs came around to score and those all came around on Garver's home run. One bad pitch was the difference in this one.
The offense only recorded six hits in this wet loss and they all came too late. Let's hope this one is just another classic dud of the 2018 season and the team rebounds tonight. We won't waste anymore time talking about this forgettable loss.