Cleveland Indians: Checking out the 2019 All-Star Game logo
The Cleveland Indians unveiled the 2019 MLB All-Star Game logo this afternoon. The event returns to Cleveland for the first time since 1997.
Who out there is excited about the 2019 MLB All-Star Game?!?
To be fair, the focus for Cleveland Indians fans is on the current season and the quest for a World Series title. But it will be exciting to have the All-Star festivities in town next season when there should be plenty of Indians players once again taking part in the events. Put Jose in the Derby!
The 2019 All-Star Game is in the news today because the Indians unveiled the logo. Are you ready? Here it is, presented in video form:
It's a guitar. Hooray. Cleveland rocks!
Those making the logo were smart to incorporate the city and not try to do something too wild. Then again, it's just an All-Star Game logo so no one should care too much. The best part about the event is the fact it is in Cleveland. The logo is secondary.
The unveiling of this logo was a great way to remind fans that the event is returning to Cleveland next year and isn't a bad way to sell some season tickets for 2019.
The Indians coaching staff will even be able to manage in the game if the team reaches the World Series this season, which would be awesome. The team winning the World Series and then hosting the All-Star Game would be baseball heaven in Cleveland. Ok, one day at a time.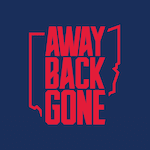 Want your voice heard? Join the Away Back Gone team!
Write for us!
This was a fun announcement and one that fans can bring up again once next season begins. I just hope that there aren't too many hot takes on the logo. It's just a logo, people.