Cleveland Indians: Previewing the series against the Houston Astros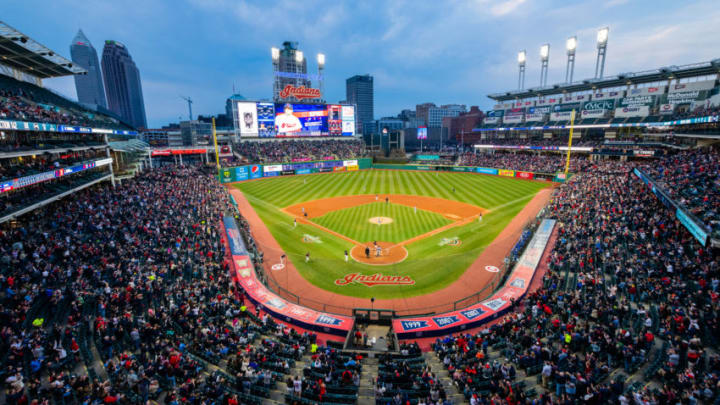 (Photo by Jason Miller/Getty Images) /
CLEVELAND, OH – APRIL 13: A general view of Progressive Field during the game between the Toronto Blue Jays and the Cleveland Indians on April 13, 2018 in Cleveland, Ohio. The Blue Jays defeated the Indians 8-4. (Photo by Jason Miller/Getty Images) /
The Cleveland Indians head down south to take on the powerhouse Houston Astros in a three game weekend series.
The emotional roller coaster of watching the Cleveland Indians continues. They dropped two of three against the Tigers thanks to some more sloppy bullpen work. But then, in the last game that they won, they looked nearly unstoppable as Trevor Bauer pitched 8 shutout innings en-route to a 6-0 win over Detroit. This has been the case for much of the month of May. Incredible starts followed by miserable bullpen work that not even nine or ten runs of support can overcome.
They may have gotten by with those performances against some teams, but it won't fly against the defending World Series Champions. The Houston Astros have won seven of their last 10 games and 12 of their last 20. They haven't even reached their full potential as they currently lead the AL West. They have the lowest team ERA in baseball at 2.44.
The Astros are pitching out of their minds right now and a lot of that is thanks to Justin Verlander and Gerrit Cole. The Indians have dodged a bullet this weekend by not having to face either of the two pitchers. Interestingly enough, Houston is only 15th in team OPS at .735. Here's how these lineups stack up in full.
Projected Lineups
Cleveland Indians (21-21) vs Houston Astros (28-17)
Cleveland Indians: SS Francisco Lindor, LF Michael Brantley, 3B Jose Ramirez, DH Edwin Encarnacion, 1B Yonder Alonso, CF Rajai Davis, 2B Jason Kipnis, C Yan Gomes, RF Brandon Guyer
Houston Astros: CF George Springer, 3B Alex Bregman, 2B Jose Altuve, SS Carlos Correa, C Brian McCann, 1B Yuli Gurriel, RF Josh Reddick, DH Evan Gattis, LF Marwin Gonzalez
As daunting as the top of the Astros batting order is, the back end of their batting order is respectable in it's own right. Brian McCann is batting .261 and while his RBI numbers are down, he is getting on base with a .367 OBP. I would be remiss if I didn't mention that the Springer, Bregman, Altuve, Correa quartet wasn't continually smashing baseballs into oblivion with no regards for the life of the poor pitcher on the mound.
Hey, the Indians are hitting pretty well. Lindor and Ramirez have given Cleveland their version of the bash brothers. Michael Brantley is batting out of his mind right now too, and Rajai Davis is heating up in Bradley Zimmer's absence. Jason Kipnis is not.
Yikes.