Cleveland Indians: A look ahead to the 2018 MLB Draft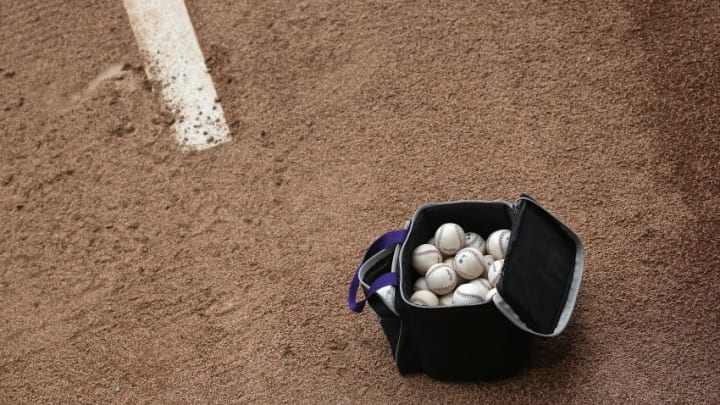 (Photo by Doug Pensinger/Getty Images) /
Cleveland Indians /
Have you caught Draft Fever? Now that the NFL Draft has concluded, it's time to turn our attention to the next draft on the schedule, Major League Baseball's.
Now that the Cleveland Browns have *hopefully* found their franchise quarterback among other pieces over the past few days, they can look toward a brighter future. The Cleveland Indians, like the Browns, are dependent on the draft to build their team. The Indians have just been better at it lately.
Ok, that's enough bashing on the Browns, let's focus on baseball. The MLB Draft is much different than the NFL Draft. The whole thing is a crapshoot. There are no surefire, can't miss, need to have prospects. Every single player has bust potential, and no one knows who will end up finding success.
The Cleveland Indians are very dependent on the draft for building their farm system, which has lost some of its luster over the past few years. So they're going to need to build that farm system from within. The Tribe is the only team that has every single player on their Top 30 prospect list be homegrown. There are no prospects the team has acquired in a trade on that list.
That can be seen as a good thing, since most prospects acquired via trade are because the team is selling off veterans at the trade deadline. Because of the team's success over the past few years, trading away pieces at the deadline hasn't been necessary.
General Draft info
There's still a little more than a month until the MLB Draft kicks off and the Indians replenish their farm system.
Dates: June 4-6
Location: MLB Network Studio 42 in Secaucus, N.J.
TV Channel: MLB Network or MLB.com
Rounds: 40 plus two competitive balance rounds
First pick: Detroit Tigers
The Tigers finished with the worst record in baseball last year and will have the dubious honor of having the first selection. Meanwhile, the Cleveland Indians had the second best record in baseball in 2017 and thus will have the 29th overall pick in the draft.
Because the Indians gave Carlos Santana a qualifying offer and he signed elsewhere, they get a pick at the end of that first round, which slots in at 35th overall. Also, being one of the smaller market and revenue teams, the Indians get a pick in the Competitive Balance Round A, which lies between the first and second rounds. That selection is 41st overall.
So the Indians have three of the first 41 selections in this draft. That's plenty of ammunition to find top tier talents to restock the prospect cupboards.