Cleveland Guardians News
Cleveland Indians: Previewing the World Series rematch against the Cubs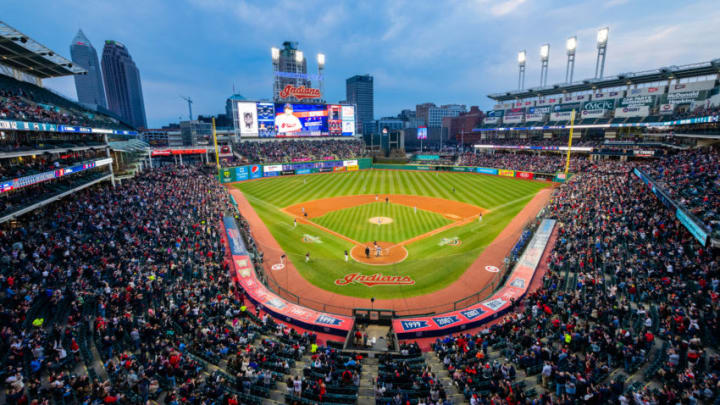 (Photo by Jason Miller/Getty Images) /
Storylines
2016 World Series rematch.
It won't be sugar coated, and you will hear about it both games this week and again when these teams meet again in late May. The 2016 World Series was an all-time classic featuring championship starved teams. One team and fan base had to go home disappointed, and unfortunately for Cleveland fans it was; yet again, their beloved Indians.
This series won't have nearly as much at stake, but you'd better believe everyone in Cleveland wants nothing more this week than to win this series along with a great Browns draft. The Indians are sitting at the top of the AL Central. The Cubs are currently in fourth in the NL Central. Make no mistake, these Chicago Cubs will come to play.
Worst/Best case scenario
Worse case: Cubs win series 2-0
These two teams matchup as closely as they did almost two years ago. It could go either way. But with the Indians having a shaky Tomlin on the mound for one game, there's also the chance that Bauer has another bad outing against these Cubs. A series loss wouldn't be the worst thing in the world for the Cleveland Indians as they are now two games up on the Twins. But it would certainly leave a stick in a lot of Tribe fans given who the opponent is.
Best case: Indians win series 2-0
With how shaky Tomlin can be, Chatwood is just as shaky. The first game of this series could prove to be a high scoring affair, or these two pitchers could shut me up and pitch great games. Regardless; Tomlin has potential to be great, and we saw it last year. If nothing else, he is due… or it could go terribly and all of Cleveland will be begging for the return of Danny Salazar.
Bauer will also be out to prove himself. If we know Trevor Bauer, we know he works best in those situations. He has netted a permanent spot in perhaps the best rotation in baseball, and now looks to become one of the league's best with each passing season.
Next: Indians sign Melky Cabrera to deal
There is a chance that one, if not both games in this series will be delayed or postponed. But the World Series rematch is set to start at 6:10 EST tonight. That is followed by a 7:10 start on ESPN for Wednesday.