Cleveland Guardians News
Cleveland Indians: Previewing the World Series rematch against the Cubs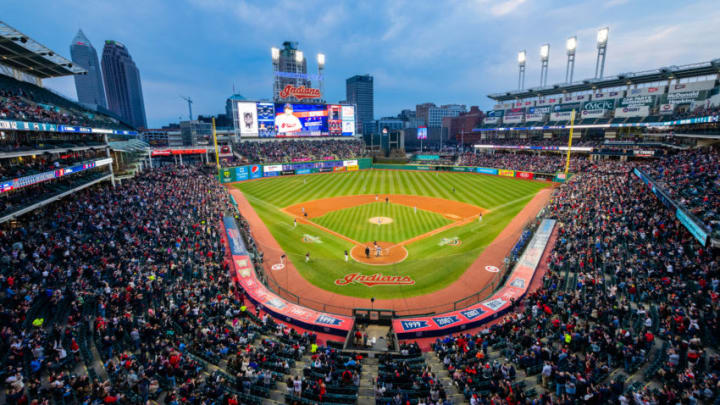 (Photo by Jason Miller/Getty Images) /
MESA, AZ – FEBRUARY 26: Jemile Weeks /
After a 4-2 road trip, the Cleveland Indians look to build on their recent success against the team that broke their hearts two years ago.
It was an interesting road trip for the Indians. Any time you travel from San Juan to Baltimore you can imagine it would be interesting. After an emotional win in Puerto Rico against the Twins last Tuesday, the Tribe would lose after 16 innings next day. The offense then showed signs of life against the Orioles in a 3-1 series win in Baltimore.
Now the Indians return home to play two games against the Chicago Cubs. These two teams have met a few times in the Cactus League for Spring Training, but this will be the first time that the Cubs come to Progressive Field since breaking the 108 year curse in 2016. I'm sure you can imagine the bitter taste of that World Series has not left Indians fans collective mouths.
The Indians are coming into this game after winning eight of their last 11 games. The Cubs are coming off a 2-1 series win over the Rockies. The Cubs have also seen five games postponed already this year. There's no guarantee both games will be played this week either as the Cleveland forecast looks a bit rainy. But it is my duty to tell you how these teams match up regardless. Let's hope the baseball gods allow us to enjoy this series without delay.
Projected Lineups
Chicago Cubs (10-9) vs Cleveland Indians (11-8)
Chicago Cubs:  CF Albert Almora Jr, 2B Javier Baez, 3B Kris Bryant, 1B Anthony Rizzo, DH Kyle Schwarber, C Willson Contreras, LF Ian Happ, SS Addison Russell, RF Jason Heyward
Cleveland Indians: SS Francisco Lindor, 2B Jason Kipnis, 3B Jose Ramirez, LF Michael Brantley, DH Edwin Encarnacion, 1B Yonder Alonso, RF Tyler Naquin, CF Bradley Zimmer
This will be the first set of American League games for the Cubs in 2018 which means we will likely see Kyle Schwarber in the DH spot as he was in the World Series. The Cubs have moved their lineup around a little bit by moving Almora to the leadoff spot in the last four games. This moved Ian Happ down to the middle of the lineup after he cooled down from his hot start.
For the Indians, Rajai Davis may not start in CF this series. But should be make a plate appearance, it would send chills through the stadium. Davis hit the tying two-run homer in the eighth inning of game seven in that World Series. That moment was perhaps the most electric moment in the history of Progressive Field.